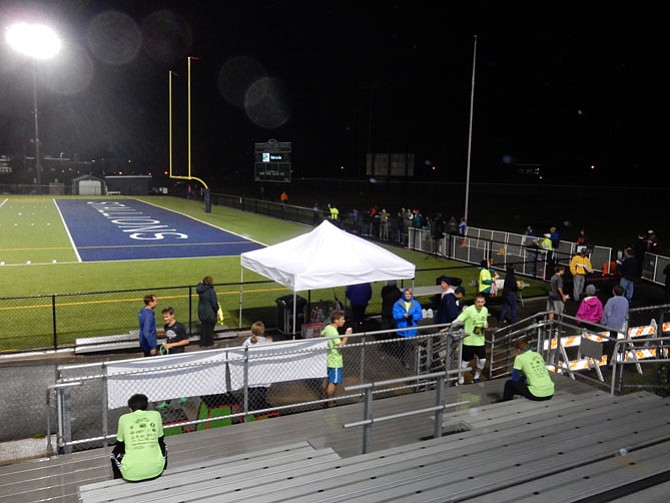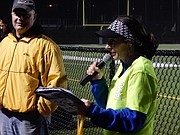 On Oct. 3, even in the drizzling, windy, cold evening, runners and walkers in neon yellow t-shirts did not give up: It was the 2nd Annual "Twilight Rock-n-Run 5K" hosted by the South County High School Band, where this year, 87 individuals participated. Participants either ran or walked under three different categories - Kids Fun Run, 5K Run or 1 Mile Glow Walk. Sixty-five participants ran in the 5K.
The purpose of the event was to benefit the high school band. According to Katie Lord, race director and coordinator, collected money will be spent toward band uniforms, maintaining or repairing instruments, purchasing music rights for the marching band performance, entry fees to competitions, transportation to play at games or competitions and some other occasions.
Hosted by the band boosters and sponsored by several businesses around the area, Lord said the idea of this 5K race came during a South County Band Booster meeting and they were able to put it together since last year.
Carla Olivo, one of the race co-directors and a parent of alumni at South County High School, said both years the band boosters worked to create something fun and a fun atmosphere for the event.
This year's theme was a "glow theme" where race participants and staff members wore neon yellow t-shirts – perfectly visible in the rainy darkness - and glowing rings were given away. Music heard near the finish line made the atmosphere motivating during a misty night.
When the last runner reached the finish line by the football field, the award ceremony was about to begin to conclude that evening. The top three male and female runners in five age categories received medals.
"I hope the 5K becomes an annual event," Olivo said. "The band boosters want it to be a community event."