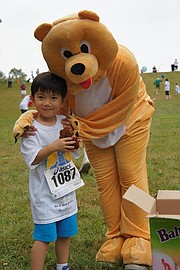 More than 300 runners and walkers of all ages turned out for the Third Annual Teddy Bear 5K & 1K Walk/Run on Sunday, Sept. 27, to benefit the Falls Church-McLean Children's Center, a nonprofit, early childhood education program in which children from low-income, working families build the skills they need to be ready for success in school.
Male and female winners of the 5K Race were Jeff Homens, 26, of Washington, D.C., with a time of 18:46, and Nicole Mancini, 33, of Warrenton, Va., who came in at 19:55 on the race's new course through Pimmit Hills neighborhood. All 5K and 1K runners and walkers received a teddy bear as they crossed the finish line from elected officials Fairfax Supervisor John Foust and Virginia Del. Kathleen Murphy, and officers of the McLean Community Foundation, a long-time supporter of the Children's Center.
The event raised $30,000 for the Children's Center's annual fund to keep the full-time, year-round educational program for children ages 2 thru 5 affordable and accessible to all families. While their parents work, 73 children each year build the language, cognitive, physical, and social-emotional skills through the Center's bilingual curriculum to avoid a learning gap that otherwise prevents children from low-income families from academic success.
Other winning runners included: 15-17 Division, Ginny Brough, McLean, 26:06; Adults 19-39 Division, Erica Losito, McLean, 25:33; 50-59 Division, Ted Poulos, McLean, 19:51; 60-69 Division, Jan Bojo, Vienna, 25:51.
Visit www.fcmlcc.org for more photos and race results.