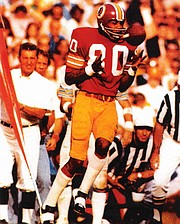 Famed Washington Redskins wide receiver Roy Jefferson will be the featured speaker at the Alexandria Sportsman's Club's annual Redskins Night Oct. 20 at the Old Dominion Boat Club.
Named one of the 80 greatest Redskins of all time, Jefferson served as the "go-to guy" on the receiving end for the Redskins in the 1970s.
Playing in Washington from 1971 to 1976, he caught 208 passes for 3,119 yards and 16 touchdowns. He was a consistent threat who helped increase the Redskins' level of success during the legendary era of head coach George Allen, when the team went to the playoffs five times, including an appearance in Super Bowl VII.
The ASC Redskins night is free and open to all. Held at the Old Dominion Boat Club, 1 King St., the evening will begin at 6:30 p.m. with a welcome reception hosted by Simpson Development. Presentation of the ASC Athlete of the Month awards and remarks by Jefferson will start at 7:15 p.m. A chili dinner sponsored by Hard Times Café will be served following the meeting.
For more information, visit www.alexandriavasports.org.