On Monday, Oct. 12, John Monsul was producing the 700th program of his show, "Communicating Today," at the television studios of Fairfax Public Access (FPA), just as he has done every other week for the past 25 years, from the show's debut in 1990 to the present. FPA's Director of Operations, Steve Ruddell, says Monsul is a consistent and dependable producer. Ruddell started his career with FPA in the Equipment Room. Producers like Monsul are required to call the Equipment Room to reserve a television studio and equipment, and are also required to sign-in at the Equipment Room when they arrive for their scheduled reservation. Ruddell says that Monsul, "always comes in like clockwork."
MONSUL'S GOAL in creating and producing "Communicating Today," one of the longest-running programs on Channel 10, is "to improve communications in the world with the end result being to better the human condition." Monsul believes that, "if we can improve the interpersonal communications skills of the people of the world, we can eventually improve the overall quality of life." FPA operates the television and radio production facilities available to Fairfax County residents like Monsul, and provides county residents access to the tools and resources they need in pursuing their goals.
Active FPA members who have paid the annual membership fee may use most FPA production facilities and equipment for free, if they have been trained and certified through FPA's training courses, and so long as they are creating non-commercial programming for any FPA television or radio channel.

"Communicating Today" is taped on Monday nights at the FPA studios, located at 2929 Eskridge Road in Merrifield, between the U.S. Post Office and the Mosaic development, off Rt. 29, Lee Highway.
FPA's Merrifield production facility has three digital television studios that provide access to a news desk, a fully operational kitchen set for cooking programs, custom designed set backgrounds, and a computer generated virtual set. In addition, the studios are equipped with multiple cameras, lighting instruments and audio equipment, as well as control rooms that contain everything needed to produce a professional television program.
The post-production lab is equipped with editing and graphic software, and enables radio and television producers to create professional sound quality. The two digital radio studios are fully equipped for production and transmission, including the ability for callers in to a radio program to be heard on air. FPA also has equipment available for shooting on location.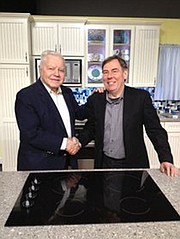 THE NEXT FREE, monthly orientation session that offers an overview of FPA's services and facilities, as well as a tour of their studios, is scheduled for Saturday, Nov. 7, from 10 a.m. until 1 p.m. See www.fcac.org/orientation for registration information.
FPA's four television channels are carried by Cox Communications of Northern Virginia cable system; Verizon Virginia, Inc.'s Verizon FiOS TV; and in Reston, by Comcast.
Charles "Chuck" Peña, Executive Director of FPA, notes that November 2015 marks the 10th Anniversary of FPA's partnership with Verizon Virginia, Inc.
"Fairfax Public Access is extremely fortunate to enjoy such excellent relations with Verizon Virginia, whose support of FPA is essential to us as we work to provide exceptional community media services to the residents of Fairfax County," states Peña in FPA's press release.
Ruddell says that Monsul has contributed to FPA's fulfillment of its mission, "[t]o provide quality and engaging community television, radio, education, and cablecasting services of interest to the public, and encourage the participation and involvement of residents of Fairfax County and the Washington metropolitan area."