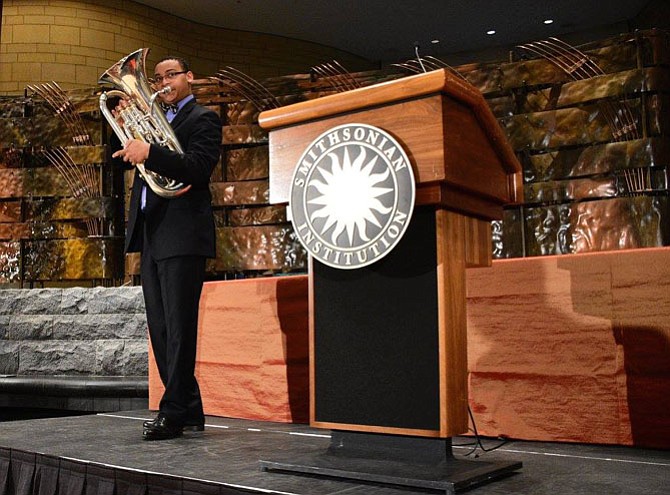 Only in his first year of college at the University of Michigan School of Music, Theatre, and Dance in Ann Arbor, Mich., Kevin Joel Broom II (Joe) has already distinguished himself as a musician.
"This is an incredible honor," said Broom. "Being selected as a Davidson Fellow is to be included in an amazing group of gifted peers motivated to make a lasting impact in their fields."
The 18-year-old McLean resident is one of only 20 students selected from around the country for this honor. His project title is "Music as Voice: Presenting the Mosaic of Life."
The title comes from Broom's use of music to communicate after he was diagnosed with bacterial meningitis at the age of nine months old. The illness delayed speech development, leaving him without a way to fully communicate, until he took to the euphonium and music.
"Although euphonium is not a common instrument, it is a versatile instrument," said Broom. "Honors like [the Davidson Fellowship] create an opportunity to expose people to the instrument and to showcase this versatility."
The judges described his musical ability as "excellent," describing him as a "true pioneer on his instrument and a role model for others."
Broom has also used the euphonium to reach people of different ages throughout his community through organizations he created.
Chamber Unique (ChU), functions as a network of artists who share their love of the arts to provide education, inspiration and to strengthen communities using workshops, presentations and performances. Within ChU is Full STEAM Ahead, a six-part workshop on Saturday mornings for elementary school students that integrates music, science and math.
"What I thought was equally strong as his musicianship was the fact that Joe uses his instrument to reach out to young people in his community," said one judge.
"I plan to have more projects in the future," said Broom
Broom graduated in 2015 from Thomas Jefferson High School for Science and Technology and is studying music performance at the University of Michigan. He was also named a Presidential Scholar in the Arts earlier this year.
Founded in 1999, the Davidson Fellowship selects and acknowledges students who are making contributions in their communities through science, technology, engineering, the arts