Photo Gallery
MPAart Fest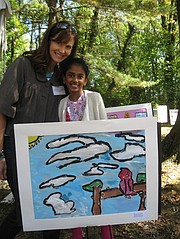 Click Photo for Flash
Despite being postponed due to inclement weather, the ninth annual MPAartfest 2015 had a large gathering on Columbus Day, Monday, Oct. 12, at McLean Central Park in McLean. Produced by McLean Project for the Arts, the event attracted 38 artists from the Mid-Atlantic region and a big crowd.

"The concept of the MPAartfest is to bring people together to celebrate the excitement and inspiration that art brings to our lives every day," said Susan Corrigan, executive director of McLean Project for the Arts, which sponsored the event. "Young people in our classrooms are learning to be successful students when art is applied to science, technology, engineering and math learning."

The Children's Art Walk included pieces of art from children at 14 public and private schools in McLean that was exhibited near the professional artists' work. "The children come by to see their own artwork or the artwork of their friends," said Amee Burgoyne, president of the McLean Community Foundation, which sponsored the exhibit. "It's just happy art and the children are so proud when they can show off their pieces."
There was another section sponsored by STEAM (Science, Technology, Engineering, Art and Math) that gave children the opportunity to create their own kites, helicopters, and airplanes. Another section gave children the chance to create their own pixel art that was joined together to form three different universal pieces: a sun, the ocean, and a globe.
Radio station 107.3 helped broadcast and promote the event that included six food tents.