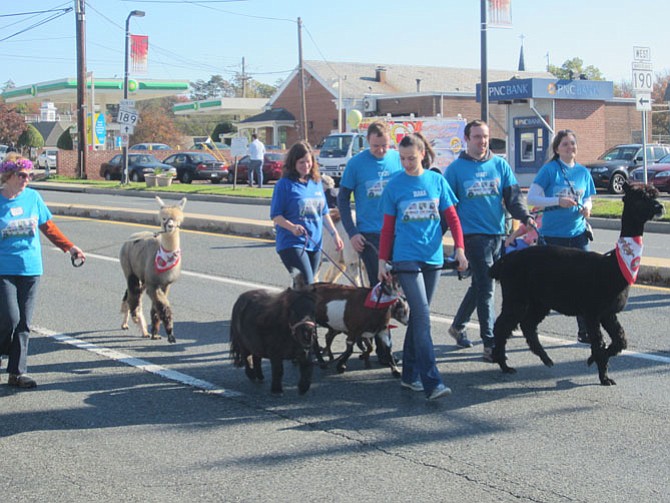 What's more fun than a parade, clowns and candy? Scurrying up a climbing wall? Sliding down inflatable slides? Riding a pony, petting an alpaca, or cuddling a pig? Rocking to the sounds of Retrospect? Becoming acquainted with Potomac business owners or a classic car expert?
Potomac Day is a day where neighbors greet neighbors, family and friends hang out with one another and the community comes together to honor Potomac businesses, local residents, politicians and more.
The parade features high school bands, dance teams, clowns, equestrians and the Potomac Chamber of Commerce Citizens of the Year. This year, the chamber has chosen Elie Pisarra to serve as Grand Marshal, Dr. Susan Rich as Citizen of the Year, Steve Ornstein as Business Person of the Year and Alexander Brown from The Bullis School as Youth of the Year.
The parade begins at 10 a.m. on Chapel Drive and River Road and travels along River Road to Falls Road where it turns and heads toward Great Falls. The parade gives children a chance to scramble for candy, laugh at the clowns' antics, wave to pediatric dentist Dr. Amy Light — always dressed as the tooth fairy — and to cheer on riders from the Capitol Polo Club, the firefighters on their shiny red trucks, and the tae kwon do performers. Adults enjoy seeing their favorite business or political candidate go by — as well as many friends representing Potomac in a variety of ways.
Once the parade ends, there will be even more activities this year. According to Jennifer Matheson, director of operations for the Potomac Chamber of Commerce, "We are expanding the ride area this year and will have even more for the children's rides. Our business fair is entirely sold out and we will have both live music from Retrospect and DJ's from Exclusively Entertainment. Potomac Day gets bigger and bigger each year with more people attending each year. The Classic Car Show is an exciting event each year which draws a lot of people. This year the classic car award categories will include the People's Choice, President's Award and the Fire Chief's Award."
Jill and John Phillips own Squeals on Wheels, a portable petting zoo in Potomac. "Our family has been bringing animals to Potomac Day since 2002," Jill Phillips said. "We pulled a landscape trailer with a van. The trailer was stuffed with bales of hay, four alpacas and our five children who managed the herd of alpacas. Over the years we added goats and a tiny 24" tall full grown horse to the menagerie. Then we started our petting zoo after we realized how much joy our animals brought to the Potomac community."