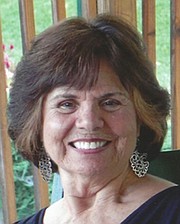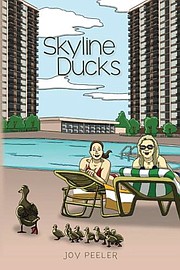 Retired Alexandria teacher Joy Peeler released her first children's book "Skyline Ducks" based on the true story about what happens when the residents of Skyline Plaza Condominium in Falls Church find a mother duck and her nine fuzzy ducklings swimming in their pool one spring day.
"Years ago when my mother was living at Skyline Plaza, we had this incident with this Mallard mother duck and her baby ducks in the back of the swimming pool. It just seemed like it would be an adorable story for kids," she said.
Peeler hopes the book will teach children about compassion, humanity and kindness as well as show them "how humans can interact with nature in a positive way" despite the challenges along the way.

"Skyline Ducks" tells the story of how the Skyline Plaza residents were able to not only co-exist with the family of Mallard ducks but they also were instrumental in providing an environment for the ducks to develop properly until they were able to return to their natural habitat.

"One resident, a man in a wheelchair, set up a baby pool where the ducks could learn to swim while the residents could continue enjoying their pool," she said.

Peeler credits her career as an elementary school teacher with giving her insights into children's mindsets and giving her the ability to make the story's concepts understandable and yet challenging to them. "I'm retired but I still do some substitute teaching and I take the book with me into class. After reading it, we usually do some type of creative writing about the story or what the students would do if they found a baby duck," she said.
While it did take the author a while to get started on the writing process, it did not take her long to write the book. Her greatest challenge was finding either former or current residents who remembered the ducks and collecting more photos of the ducks.
She was able to resolve this issue by doing a little detective work.
After placing an article in the Skyline newsletter, a current resident who remembered the ducks and had a whole photo album full of pictures of them contacted her. Several of these pictures are in the back of the book as well.
Since she does not draw, Peeler decided to let the publisher, CreateSpace Publishing, select one of their illustrators to create the book's illustrations.

The Skyline maintenance worker who is featured in the book, told her that his daughter was amazed by how much a character in the book looked like him. She was even more surprised to find out that it was an actual drawing of her father.

"Skyline Ducks" is available on Amazon.com, Barnes and Noble and bookstores nationwide.
When she is not writing or teaching, she enjoys reading non-fiction and mysteries, taking walks, and traveling.
In 1965, Florida native Peeler moved to the Alexandria following her husband's job transfer. She has over 28 years in the Alexandria City Public School System. Before moving to Alexandria, she taught in Fort Lauderdale and Cocoa Beach. She retired early in 1992 but occasionally substitute teaches in Longwood, Fla. where she and her husband reside. She has a Bachelor's Degree in elementary education from the University of Florida.