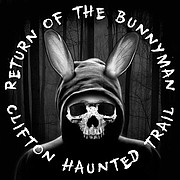 Saturday/Oct. 24
Clifton Haunted Trail. 7-10 p.m. Chapel Road, Clifton. A terrifying annual event that winds through Clifton's 8 Acre Park. Visit cliftonhauntedtrail.com.
Howl-O-Ween Dog Costume Contest and Fall Fest. Dog costume, 2-4. Fall Fest, 4-9 p.m. Lake Accotink Park, 7500 Accotink Park Road, Springfield. The fun kicks off with a canine costume contest. Compete for special prizes and goodies, and let your decked-out dog walk through the "boneyard" to sniff out hidden treats. All dogs must be leashed and friendly toward other dogs and people. $8 per dog, and registration should be under the handler's name. Once the dogs have their day, it is time to treat the rest of the family with Halloween-themed mini-golf, haunted carousel rides, face painting, pumpkin painting and spooky wagon rides at Fall Fest. $13 per person or $10 per person when you register three or more at one time. Don't forget a flashlight for the walk back to your car. Free for children two and under. 703-569-3464. http://www.fairfaxcounty.gov/parks/lake-accotink/.
Friday-Saturday/Oct. 31-30
The Haunted Lab. 10 a.m.-8 p.m. Children's Science Center Lab, Fair Oaks Mall, 11750 Fair Oaks Mall, Fairfax. A fun, not scary, just spooky family event, to enjoy hands-on STEM activities while celebrating Halloween! Children's Storytime at 11 am and 2 p.m. followed by a Children's Costume Contest for children ages 2-6 and 7-12.
Through Saturday/Oct. 31
Hillbilly Horror Halloween Haunt. 7-9:30 p.m. Creepy Nights on Calamo, 7104 Calamo St., Springfield. For teens, escape rabid rednecks, angry moonshiner ghosts and a giant spider-infested graveyard. For all ages, nightly family friendly spooky tunes light show. Free but bring food donations for ECHO food bank.
Saturday/Oct. 31
L.A. Theatre Works' "Dracula." 8 p.m. George Mason University's Center for the Arts, 4400 University Dr, Fairfax. L.A. Theatre Works brings this chilling story to life with live readings and creepy sound effects made "the old fashioned way." 888-945-2468. cfa.gmu.edu.