Where and When
L.A. Theatre Works presents "Dracula" at the George Mason University Center for the Arts, 4400 University Drive, Fairfax. Performance on Oct. 31 at 8 p.m. Tickets: $22-$44. Call 888-945-2468 or visit http://www.cfa.gm...">www.cfa.gmu.edu. Note: There will pre-performance Halloween festivities starting at 7 p.m. There will also be a pre-performance discussion 45 minutes before the performance.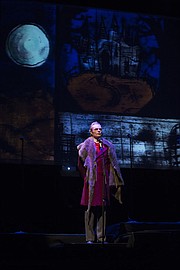 Fairfax — He's back. And just in time for Halloween. "He" is that noted, undead vampire who has inspired so many imitators; "Dracula." He and his cohorts are coming to town in the L.A. Theatre Works live theater production of that popular Goth cultural icon created by Bram Stoker a century ago.
"We were thrilled that L.A. Theater Works' tour of Bram Stoker's Dracula allowed for a visit to George Mason's Center for the Arts on Halloween, and especially on a Saturday night," said Tom Reynolds, Director of Artistic Programming, Marketing and Audience Services for the Center for the Arts.
To make it an evening full of fun for patrons George Mason University is going all out. "We are planning lots of fun promotions for those who attend the performance by this wonderful radio-style theater company," said Reynolds.
There will be special pre-performance happenings at the Mason Center for the Arts including Halloween-themed activities including a "Count" Dracula guessing game. "There will be a container of Dracula M&Ms and audience members can guess how many M&Ms are in the container. The closest guess wins a prize," indicated Reynolds. "There will also be a photo booth, where we will have costume pieces for the audiences to dress up for silly photos."
The L.A. Theatre Works "live-in-performance," radio studio-like drama production of "Dracula" has been touring the country, Northern Virginia getting the gift of a Halloween night performance. The script was adapted from Stoker's original work into a faithful manner of "good vs evil" by Charles Morey. In Morey's adaptation, Count Dracula has quietly slipped into London along with some of his required native Transylvanian soil necessary for his survival. His fearsome powers have paralyzed the city. What is to be done to stop the Count?

With a troupe of actors with horror and suspense genre credits, the L.A. Theatre Works presentation of "Dracula" will set up a life-and-death clash the audience witnesses. The production will give patrons the opportunity to become a performance element becoming members of a radio show studio audience. They get the opportunity to not only "see" how the action takes place, but marvel at the sound effects being made along with other "behind the scenes" actions they will be privy to.
"Dracula" is helmed by Matt August who has received a D.C. area Helen Hayes nomination for theater work. What a way to spend Halloween night.