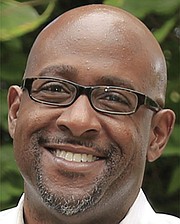 Democrat
Residence: Arlington
Age: 43
Family: Wife, Rachael, and two children- Jordan (7) and Mila (3)
Education: Georgetown University, School of Foreign Service, B.S.F.S.
Office sought: Arlington County Board
Offices held, dates: N/A
Occupation and relevant experience: Director, Economic Policy Institute; former Executive Director of the Bonder and Amanda Johnson Community Development Corporation; former executive director of the Reading Connection
Community involvement: Planning Commission; Tenant-Landlord Commission; A-SPAN Board of Directors; Arlington Free Clinic Board of Directors; Arlington Independent Media Board of Directors; Past Chairman, Arlington Committee of 100; Founding Co-Chair, African American Leadership Council; Service on boards of several other community organizations
Website: www.christiandorsey.org
Email address: Christian@christiandorsey.org
Twitter handle: @Arl_CDorsey
Name up to three favorite endorsements:
Arlington Education Association PAC
Entire Arlington County Board (only candidate to earn entire Board)
Working Families Coalition
QUESTIONS:
What is one issue that defines your call to serve, why does it matter, and how will you tackle it?
I grew up in a town that didn't think about development, and the result was a community of residents who couldn't enjoy public green space and live in an environment that provided a good quality of life. As an adult, I have been fortunate to live in Arlington, and I want to do all I can assure that our community doesn't suffer the consequences from mismanaging growth and development. This is the central challenge faced by Arlington County in order for our community to reach its full potential. Growth is also the source of community concern surrounding issues as distinct as rising school enrollment, housing affordability, adequacy of parks and open spaces, transportation and density in neighborhoods.
Arlington needs leadership that can thoughtfully balance the need for growth with the actions needed to enhance the quality of life for Arlingtonians. I will do that through careful analysis of development's impact and shaping it so that it addresses our community's needs. Once quantified, any fiscal and infrastructure impacts will then have a corresponding plan for mitigation.
Through precise analysis, inclusive collaboration and transparent decision-making, Arlington's growth can be sensible and sustainable and provide an enhanced quality of life for current and future Arlingtonians.

What distinguishes you from your opponent(s) and why should voters choose you?
As a more than 20-year resident of Arlington, an Arlington Public Schools parent, an appointed County Commissioner, and a board member of a number of community organizations, I bring a unique perspective and deep institutional knowledge of the different processes and inner-workings of Arlington County. After being involved in Arlington for more than two decades, I have a record of using my progressive values to guide me while also being independent-minded and willing to stand up to the status quo when necessary.
Professionally, I am a macroeconomic policy expert who works to promote policies that foster broadly shared prosperity. As a County Board member, I will use these skills to think critically about our budget priorities, and be a good steward of taxpayer dollars. I believe that progressive values are compatible with fiscal prudence, which is why I will ensure our investments make sense, maximize value, and produce optimal outcomes.
Arlington County is at a crossroads. From rising school enrollment to high commercial vacancy rates, we need leaders who can work together to address our challenges. Perhaps the biggest thing that sets me apart in this race is that I am the only candidate to be endorsed by every member of the County Board — four Democrats and one Independent.
My macroeconomic and community development policy background, record of civic activism, and ability to think critically and independently all give me the skills, background, and requisite experience to get to work on day one. Just as I have done in this campaign, on the County Board I'll work to bring people together and to make County government more inclusive, transparent, and responsive so that we can tackle our community's challenges together.
What do you see as the top challenge in governing Arlington in the coming year?
The top challenge in governing Arlington in the coming year is to bring people together and to ensure public input is taken into account before decisions are made, not after. As the only candidate endorsed by all five County Board members, I have a record of bringing people together to address our challenges.
With regards to a specific issue, Arlington's top challenge is our high commercial vacancy rate. In times of more robust economic growth, the commercial sector's strength has produced tax revenues sufficient to keep residential taxes manageable, even as home values continue to climb. However, the high rate of office vacancies, paired with struggling retail, has depressed the commercial tax base. This will require homeowners to shoulder a growing tax burden if we are to maintain/enhance our commitments to excellent public schools, providing quality human services, and making key investments to propel Arlington forward.
Arlington cannot afford to wait and hope for a cyclical upturn in the commercial sector. We must aggressively work to fill vacancies and reduce obstacles for new business, while implementing strategies to increase consumer demand.
Addressing our commercial vacancy rate will require bringing stakeholders, community partners, and business owners together. As someone with a professional career based in economic policy, and someone who has a record of bringing people together, I believe I am well suited and able to address our commercial vacancies so that we can maintain/expand our community services without forcing homeowners to bear an unfair financial burden.