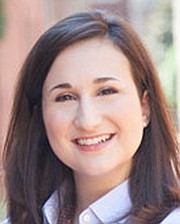 Democrat
Residence: Arlington
Age: 30
Family: Husband, Steve Giballa
Education: Bachelor's, University of Virginia; Master's of Public Affairs, Princeton University
Office sought: Member, Arlington County Board
Offices held, dates: n/a
Occupation and relevant experience: Education policy consultant with experience working in school systems across the U.S. on strategic planning, resource allocation and community engagement
Community involvement: Appointee and Research and Investigation Chair, Arlington Commission on the Status of Women; Appointee, Arlington Public Schools Advisory Council on Instruction and Volunteer, Randolph Elementary School
Website: www.katiecristol.com
Email address: katie@katiecristol.com (for Arlington Connection use); info@katiecristol.com (for publication)
Twitter handle: @kcristol
Name up to three favorite endorsements: Arlington's educators (Arlington Education Association Political Action Committee); Arlington's firefighters (Arlington Professional Firefighters and Paramedics Association); Virginia Chapter, National Organization for Women
QUESTIONS:
What is one issue that defines your call to serve, why does it matter, and how will you tackle it?
I am committed to bringing to the Board the perspectives of Arlington women and families, and to emphasizing the connections between the issues facing our County. For this reason, childcare affordability defines my call to serve. Childcare is a quarter to a third more expensive in our area than in other parts of the Commonwealth, and both the cost and scarcity of childcare pose major challenges to Arlington families. Because Arlington's highly educated workforce is a chief marketing asset to new businesses as we seek to address the commercial vacancy rate (our community's central financial sustainability challenge), ensuring that parents who choose to stay in the workforce have reliable, affordable childcare is also an economic redevelopment strategy for the County. I will tackle childcare affordability by seeking to expand supply while maintaining quality standards, by pursuing childcare centers as first-floor retail equivalents in our zoning and seeking to negotiate committed affordable rents for childcare providers in our agreements with developers.
What distinguishes you from your opponent(s) and why should voters choose you?
Arlington County needs new perspectives on the Board, and the ability to see our challenges differently don't have to come at the cost of our community's progressive values. I offer the skills and experience — through my professional background working in communities far more resource-constrained than Arlington — to ask tough questions about effective resource use. But I do so while sharing our core Arlington values: Excellent schools, community solutions and a diverse population. In particular, my experience in education policy, both professionally and as a volunteer and appointee in Arlington Public Schools, means that I am well-positioned to work immediately and effectively with the School Board to address our pressing community facilities needs.
What do you see as the top challenge in governing Arlington in the coming year?
The top challenge in governing Arlington will be restoring trust between citizens and government. Too many Arlingtonians feel their perspectives aren't heard in County decision-making or that their input is sought inauthentically when a decision has already been reached. Ensuring that citizens insights are valued and deeply considered, particularly as we make difficult decisions about siting public facilities, must be a key priority for the next County Board (and the next County Manager) to be effective in 2016.