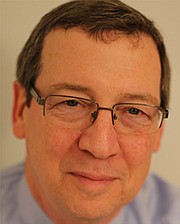 Town/neighborhood of residence: Douglas Park
Age: 62
Family: Wife, Carol; daughters, Olivia and Lillian, both APS graduates
Education:
BA, Political Science, State University of New York
MA, International Relations, The Johns Hopkins University
Offices held, dates: No previous elected office
Occupation and relevant experience: Management consulting
Community involvement: Extensive involvement in APS, neighborhood and County committees and issues
Website: www.reidgoldstein.com
Email address: reidgoldstein@gmail.com
Twitter handle: @ReidForSchools
Name three favorite endorsements: Arlington Education Association PAC, Sun-Gazette, Former State Senator Mary Margaret Whipple
QUESTIONS:
What is one issue that defines your call to serve, why does it matter, and how will you tackle it?
Serve the needs of each student. We need to meet each of the students where they are, and provide the best education we can for that student. While building to meet growing enrollment, we must recognize that APS students have individual needs and talents — for example, strength in math along with challenges in English as a second language. We must address the students, not assumptions about them. We cannot lose sight of this core principle. And we must remember that understanding and addressing student needs relies on the skill of and support for our teachers; we must remain competitive to attract and keep the very best.
What distinguishes you from your opponent(s) and why should voters choose you?
I have been a schools and community activist for over 20 years, with leadership roles including the HB Woodlawn Parent Advisory Committee chair, on the Jefferson Middle School exemplary project committee that recommended the International Baccalaureate program, as a member of the Superintendent's Strategic Planning Committee, as civic association president, president of the CPRO board, and member of the Housing Commission. With this experience, I am very familiar with how APS and the county government work, which will be essential to increase the level of collaboration on issues like location of schools and allocation of resources between the county and APS.
Earlier in the year, the Arlington County Board rejected a School Board proposal to build an elementary school adjacent to Jefferson Middle School, and criticized the school's outreach to the local communities. Do the County Board's criticisms have merit, and if so, how can the school board fix its community outreach problems?
The County Board's main concern was whether the School Board had investigated all the potential alternatives to the Jefferson site. That broader investigation has now been conducted over the last several months, involving representatives of every South Arlington PTA and civic association. The South Arlington Working Group has looked at all school sites and county-owned properties, and even at whether privately held land or buildings might present opportunities, investigating the feasibility of sites and issues like traffic and impact on school boundary changes. This is a process that APS should have convened much earlier to determine the best site. It is being conducted in a transparent way, so that the whole community will understand the roots and ramifications of the decision.
Arlington Public Schools' cost per pupil is reported to be more than $19,000, the highest of any school district in the DC region. What are we getting for the "extra" money? What value does the Arlington Public School system add for taxpayers who do not have children in the schools?
The per-student cost is about $18,600, for which APS offers a breadth of programs unprecedented for such a small county, creating multiple options for students to thrive (e.g., pre-K, Montessori, special ed, Outdoor Lab, International Baccalaureate at three levels, TJHSST, technical and career ed, adult ed, traditional, immersion, H-B Woodlawn, alternative and continuation high school, etc.).
All taxpayers, with and without children in our schools, benefit from high quality Arlington schools that are respected and envied all across the region. Great schools support real estate values; a business friendly and high volunteerism climate; lower public crime, welfare, and health care costs. Well educated communities are better positioned to thrive economically, and a community that values education, also values creativity, ethics, mutual cooperation, discipline and striving for excellence — ideals that schools inspire in addition to academic mastery.