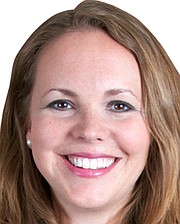 Town of residence: Alexandria
Age: 36
Family: Husband, Hendrick Booz; Daughter, Madeline (2 – almost 3); Son, William (2.5 months)
Education: M.Ed. University of Virginia; BA Carleton College
Offices held, dates: Alexandria School Board, 2013 - present
Occupation and relevant experience: Partnership Development Lead for Sharemylesson.com with the American Federation of Teachers (AFT). Previous work: Director of Civic Education at the Center for the Constitution at James Madison's Montpelier; former civics instructor and Manager of Teacher Programs with Alexandria's Close Up Foundation.
Community involvement:
Website: www.kellycarmichaelbooz.com
Email address: kellycbooz@gmail.com
Twitter handle: @kellycbooz
Name three favorite endorsements: Alexandria Political Action Committee for Education, (A-PACE); Senator Adam Ebbin; Alexandria School Board Member Stephanie Kapsis


QUESTIONS:
What is one issue that defines your call to serve, why does it matter, and how will you tackle it?
Academic achievement for students at all levels remains my call to serve. In the past two years, Alexandria has made tremendous gains across the division. Previously accredited with warning, today Patrick Henry has made 20% academic gains across all subject areas in just two years and is now fully accredited. TC Williams was accredited with warning in mathematics last year and is now fully accredited. Jefferson-Houston made two years of academic gain in one year following the state turnaround plan.
While we have a lot to celebrate, we also need continuing improvement. Our special education and ELL test results were flat and remain a focus for us this coming year. We are implementing a new local special education plan this year with new leadership. In ELL, following the success of the TC Williams International Academy, we launched a new academy at Hammond and we are constantly revising our ELL staffing model.
What distinguishes you from your opponent(s) and why should voters choose you?
Continuity is vital to maintain ACPS momentum and gains made. I am the only incumbent running for reelection in District B and I am committed to continued progress. Education is my profession and I am one of only two current board members with an education background. I have spent the last 14 years working with students, educators, and administrators from every county in the Commonwealth and from all 50 states. Last year Governor McAulliffe appointed me to the Standards of Learning Innovation Committee where we have looked both at accountability and assessments. I want our schools to foster the greatness our children deserve and would be honored to have one of your three votes.
How can Alexandria address overcrowding within the current budgetary confines? What ideas and skills do you bring to solving this?
Capacity is a real issue in Alexandria. Our student population is growing at a rate of 4.3% every year as more families remain with ACPS in middle and high school. Today, our current 7th graders will not fit in Minnie Howard when they reach the 9th grade.
The board recommended a 10-year plan that addresses student growth and our aging buildings that require repair rather than a patchwork approach to fixing issues that is neither sustainable nor a good use of tax dollars. The new approach takes a school offline every couple years to upgrade it, modernize it and add capacity.

If I am reelected, I will work with the school board, city council and community to ensure that we secure space and quality educational facilities for our current and future students.
While the majority of Alexandria schools remain accredited, what can be done about continuing problems facing Jefferson-Houston? For incumbents, what lessons have been learned from the problem? For non-incumbent candidates, what would you have done differently?
Last year, Jefferson-Houston made two years of academic gains in one year following the state turnaround plan and I am proud to say that the school is now on a path to regaining its accreditation status. We learned that a strong partnership with the state, a strong superintendent, and excellent teachers make the difference when turning around the school. I am confident that the right people are in place to make the gains necessary.