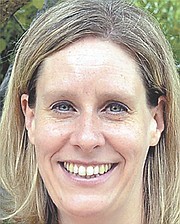 Town of residence: City of Alexandria
Age: 40 years old
Family: Married. I have 2 children and have been an ACPS parent for the last 7 years and thanks to my Kindergartner I have 13 more years to go! I have 2 nieces and 3 nephews who are all future ACPS students.
Education: BA from University of Virginia, Masters in Art of Teaching from Trinity University and Nonprofit Management Certificate from Georgetown University
Offices held, dates: N/A
Occupation and relevant experience: Former classroom teacher. As CEO led Urban Alliance, a nonprofit dedicated to providing training, mentoring and internships to over 2,000 students annually (including students at TC Williams). Have served on 7 boards of youth-serving organizations. Currently an adjunct professor at Trinity University.
Community involvement: For last 20 years I have served youth in the DC metro region and have received several recognitions for my community involvement including: Washingtonian of the Year, the Meyer's Exponent Award, Washington Business Journal's "Real Women Who Mean Business" and a finalist of the Washington Post Nonprofit Excellence Award. I'm in the 2010 Class of Leadership Greater Washington and also served on several boards including: Valley Drive Cooperative Preschool and currently serve on Urban Alliance's board (a program that provides internships to TC Williams' students.)
Website: www.veronicaforschoolboard.com
Email address: veronicaforschoolboard@gmail.com
Twitter handle: @vote4veronicaSB
Name three favorite endorsements:
Education Association of Alexandria
Stephanie Kapsis, Current school board member
Kitty Porterfield, Founding Executive Director of the TC Williams' Scholarship Fund
QUESTIONS:
What is one issue that defines your call to serve, why does it matter, and how will you tackle it?
I am passionate about all children being provided with a top quality education that is differentiated according to their needs because I believe an education has the power to transform lives. I believe supporting and retaining quality teachers, principals and staff is paramount to all children receiving an excellent education.
What distinguishes you from your opponent(s) and why should voters choose you?
I would be a strong school board member due to my work style and experience. With regards to my approach I am collaborative, have a servant leadership style and know how to identify a concern as well as a plan of action after listening to a variety of engaged stakeholders.
Moreover I have a unique background that differentiates me from other candidates. I'm the only person running in District B that has classroom teaching experience. On the other hand I also have a business and leadership background having been the CEO of Urban Alliance for 12 years, a high school internship program (that also serves TC Williams). Moreover I am the only candidate in District B that currently has children attending ACPS schools so I have a pulse on the existing parent perspective.
How can Alexandria address overcrowding within the current budgetary confines? What ideas and skills do you bring to solving this?
Research new streams of funding should at the very least be explored given the limitations the current budget and funding sources provide. We should also investigate public/private partnerships with the city council to see about creative space options that could exist throughout the city. We should also research what other districts have done in similar circumstances.
As a nonprofit CEO I successfully built more than 300 public/private partnerships which allowed more youth served and an increase in funding. Having led a nonprofit (that grew during the recession) I'm used to operating a lean budget that does not sacrifice quality. Moreover I'm used to using data (with context) to drive my decisions and being held accountable for such decisions.
While the majority of Alexandria schools remain accredited, what can be done about continuing problems facing Jefferson-Houston? For incumbents, what lessons have been learned from the problem? For non-incumbent candidates, what would you have done differently?
For the past 20 years my professional background has been working in and alongside schools similar to Jefferson Houston. Jefferson Houston presents an exciting opportunity to soon be a model for schools that have rebounded from accreditation challenges and effectively serves diverse populations.
The good news is Jefferson Houston has shown progress which most recently was displayed by the increase in test scores. The staff and principal should be applauded for their work.
It's imperative that every school is assessed for both strengths and challenges and that the weaknesses are met with specific goals that address the concerns. With regards to Jefferson Houston, we need to provide classroom teachers the time to scrupulously review their students' academic gains and receive coaching from experts on how to reach struggling students. We also need to provide real differentiated learning so that students who are not struggling are being academically challenged. Moreover we need to support and retain top quality staff as well as provide them with tailored professional development training and coaching that meets the school's unique needs. If students are identified with struggles outside of the classroom that's preventing their learning, then we need to provide intervention services to ensure all children have access to Alexandria social support services they need in order to be successful inside the school.
As a non-incumbent what I wish had been done differently is that much earlier, an infrastructure was established where a robust data analysis was routinely set in place so that struggling students could receive tailored intervention services as quickly as possible.