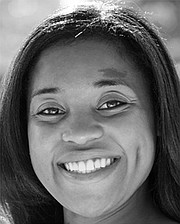 Alexandria — Town of residence: Alexandria (West End)
Age: 32
Family: Daughter, Sydney Dillard (9 yrs old)
Education:
BA in Philosophy; University of Michigan
MAT in Secondary Education and Mathematics; American University
JD; American University
Offices held, dates: No previous elected office
Occupation and relevant experience: Alexandria City Public Schools (PS) Math Teacher, current; Fairfax County PS Math Teacher and Department Chair; Prince George's County PS Math Teacher; DC Public Schools Math Teacher
Community involvement:
Alexandria Recreational U8 & U10 Girls Basketball Coach of the Rockstars!
Alexandria City Public Schools Stakeholder Committee member 2014-15
SCAN, Toast to Hope 2014 Volunteer Coordinator
Samuel Tucker Elementary School PTA President, 2013-2015
Samuel Tucker Elementary School PTA Vice-President, 2012-2013
Website: www.dariadillard.com
Email address: dillard4schoolboard@gmail.com
Twitter handle: @dillard4ACPS
Name three favorite endorsements:


QUESTIONS:
What is one issue that defines your call to serve, why does it matter, and how will you tackle it?
One issue that defines my call to serve is serving the needs of each and every child. As a teacher I understand what it means to meet each student where they are and provide them with the best education possible. Our children are our future. No amount of money is ever too much if we are investing in our children and doing what needs to be done to make sure they are all receiving a high quality education. With that, we also need to make sure our teachers are receiving the training and support they need because they are the ones in the classroom with our children every school day.
What distinguishes you from your opponent(s) and why should voters choose you?
I am a teacher and a parent. I have been in the classroom with our Alexandria City students as well as in our neighboring school systems. I have worked with and/or taught all levels from K-12th grade. None of my opponents have been in a classroom so they have no idea how school board policies truly impact teachers and students in the classroom. With this experience, I am very familiar with the impact of school board policies on the students we are trying to educate and the teachers who are doing the hard work during the school day.
How can Alexandria address overcrowding within the current budgetary confines? What ideas and skills do you bring to solving this?
Alexandria is standing at a crossroads where the future of our schools depends more than ever on making smart decisions. At one direction is the rapid growth of our community and at the other is heavier than ever limitations on school funding. That said, we are on the right path.
Although, the current School Board has begun the process of redistricting, this has no impact on TC Williams High School as there is only one high school in Alexandria City.
Reducing overcrowding is a multi step process. A reduction is class size will have little effect without well-qualified teachers and instructional supports. If we are to keep our outstanding teachers then we need to give them every tool necessary to facilitate optimal classroom learning environments.
We also need to have enough classrooms and teachers to teach in the newly created classrooms in order to reduce class size. This is where a change in perspective is needed. We need to think outside of the box to address facility needs today not just 20 years from now. Budget requests should support swing spaces during renovation, team teaching, utilization of unused commercial space and other creative approaches to address the increasing enrollment numbers.
While the majority of Alexandria schools remain accredited, what can be done about continuing problems facing Jefferson-Houston? For incumbents, what lessons have been learned from the problem? For non-incumbent candidates, what would you have done differently?
I am a math teacher and a parent. The current School Board has only two members with education experience and only one of the two is seeking reelection. This education perspective provides a unique lens in which to view the needs, accessibility and inclusionary practices of diverse populations and how to better weave those into sustainable educational goals and policy that makes our community and future workforce strong, capable and innovative.