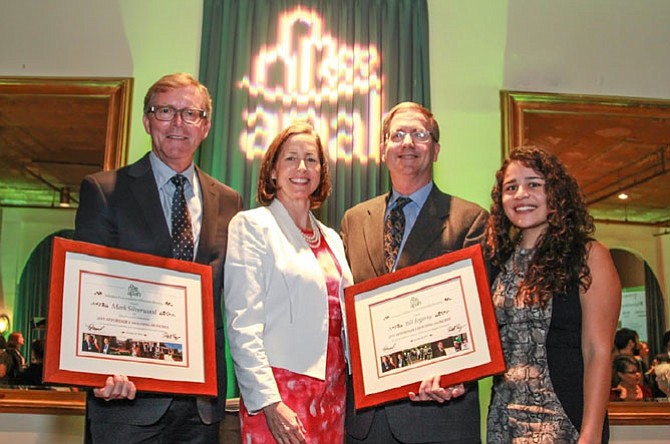 The Arlington Partnership for Affordable Housing (APAH) paid tribute to 2015 APAH Affordable Housing Honorees, Bill Fogarty, Walsh, Colucci, Lubeley & Walsh, and Mark Silverwood, Silverwood Companies, at its annual fundraiser celebration at the Clarendon Ballroom on Oct. 6.
More than 375 attended the celebration and contributed a record-breaking $430,000 to support APAH and its resident services program.
"We applaud Bill Fogarty's long-term leadership on the APAH Board where he helped our organization to grow from a small nonprofit to a major community partner with 1,218 homes at 14 properties," said Nina Janopaul, president/CEO.
"APAH recognizes Mark Silverwood, for being an early partner with Arlington County to develop affordable housing and for his ongoing philanthropic work in our community," Janopaul added.
Nineteen-year-old APAH resident, Allyson Suria, told the audience her personal story of coming to the U.S. from El Salvador at age four, relocating 11 times with her family due to high rents before moving into stable housing at APAH's Buchanan Gardens. She is currently on the dean's list student studying education at Marymount University.