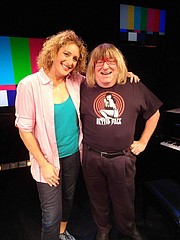 Where and When
"An Evening with Bruce Vilanch and Judy Gold," at the Alden Theatre, McLean Community Center, 1234 Ingleside Ave, McLean.
Performance on Saturday, Nov. 7, 2015 at 9 p.m.
Tickets are $35, $20 for McLean Community Center (MCC) tax district residents. Information/Tickets visit: http://www.aldent...">www.aldentheatre.org or call 703-790-0123.
Note: This show is for mature audiences only.
Late night, cheeky stand-up comedy, with plenty of sharp pointed takes on contemporary times will be front-and-center at the Alden Theatre. It is "An Evening with Bruce Vilanch and Judy Gold, also known as "Big and Tall" for one brash performance only.
When asked about scheduling the mischievous duo of Vilanch and Gold, Sarah N. Schallern, director, performing arts, McLean Community Center said, "I was directly responding to patron requests for more comedy. We survey our audiences regularly, and they always say they want The Alden to bring comedy acts, so we're giving them two for one!"
Gold and Vilanch are known as "Big and Tall" since Gold is well over 6 feet tall, while Vilanch is far from tall, but easily recognized in his own way. The two comedians will perform their later-night, stand-up sets "united by their gay, Jewish identities and raunchy, sidesplitting observations," according to the Alden marketing material.
Gold has appeared on Comedy Central and HBO shows as well as co-hosting "The View." She has received Emmy Awards for her work on The Rosie O'Donnell Show. She is a Drama Desk and GLAAD Award winner for "25 Questions for a Jewish Mother." She also has a weekly podcast called "Kill Me Now."
Emmy Award recipient Vilanch has written for the annual Academy Awards telecasts for decades as well as for the likes of Whoopi Goldberg, Billy Crystal, Alec Baldwin, Steve Martin, Bette Midler among others. He has starred as "Edna Turnblatt" in the musical "Hairspray" both on Broadway and the national touring company. He has appeared on the long-running "Hollywood Squares."

In an interview, Gold indicated that she loves "to do stand-up comedy before a live audience. Performing before an audience is my favorite place to be." Her self-deprecating, sassy humor is fresh and includes reactions to audience reactions. Vilanch said he "plans to riff on grown-up, topical humor taking the world as he sees it." He also expects to share stories about life working in Hollywood with its many fascinating personalities. Gold and Vilanch were hilarious, priceless, no holds barred interviews.
Is McLean ready for boldly off-center world of Gold and Vilanch? "Their humor is racy… maybe a bit edgier; but very smart and very witty and universally funny. Audiences can expect to laugh. A lot," noted Schellern. The intermission free show is for adults; starting at 9 p.m. for a reason.