Where and When
Stephen Lang performs "Beyond Glory" at Reston Community Center, CenterStage , 2310 Colts Neck Road, Hunters Woods Village Center, Reston.
Performance: Tuesday, Nov. 10, 2015 at 8 p.m.
Tickets: $15 Reston/$20 Non Reston.
Call 703-476-4500 or visit http://www.reston...">www.restoncommuni....
Stories of ordinary military service members doing extraordinary deeds during war-time will be presented at Reston's CenterStage. Stephen Lang will bring to full vigorous life an emotionally rich evening of "Beyond Glory"; singular accounts of personal courage by Medal of Honor recipients.
"Beyond Glory" has been presented all over the world to both civilian and military audiences. The show is based upon Larry Smith's book, "Beyond Glory: Medal of Honor Heroes in Their Own Words." The Medal of Honor was created in 1861 and awarded to military service members for valor in action. Since then about 3,400 have received the award from the President in the name of Congress.
"I can think of no more fitting way to honor the veterans of Northern Virginia than to host this great talent telling these important stories, on the evening before Veterans Day," said Paul Michnewicz, arts and events director, Reston Community Center.

Lang indicated that his decision "to turn the book 'Beyond Glory' into a stage performance virtually made itself." The book's author, Larry Smith, wrote so the voices of Medal of Honor recipients were never "filtered…their voices came ringing through very clearly."

"Larry Smith's skill in interviewing, and making it comfortable for men to open up about things that they are usually reticent to speak of" was the starting point for Lang's solo performance," noted Lang. The stories and the men he depicts are "very deep and very personal that demands the telling and the hearing." The performance chronicles conflicts including WWII, Korea and Vietnam.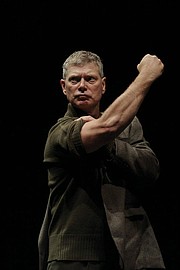 For Lang there is a great personal obligation to keep these stories alive. When "Beyond Glory" was first performed in 2004, eight of the men portrayed were alive. Today only two are still alive.
"Beyond Glory" is "by turns harrowing, sad, very funny, tragic, and just plain human. Audiences can expect to be moved, to laugh and cry." Lang made clear it is permissible to laugh during the performance. After all, some of these medal recipients are rather "salty and cantankerous."

Music and projections will add intensity and feelings to the show and the wartime situations that Lang gives voice to.
Asked about Veterans Day and its meaning, Lang said, "It's a day when we as a nation turn our thoughts to those who have served. 'Beyond Glory' is part of that."