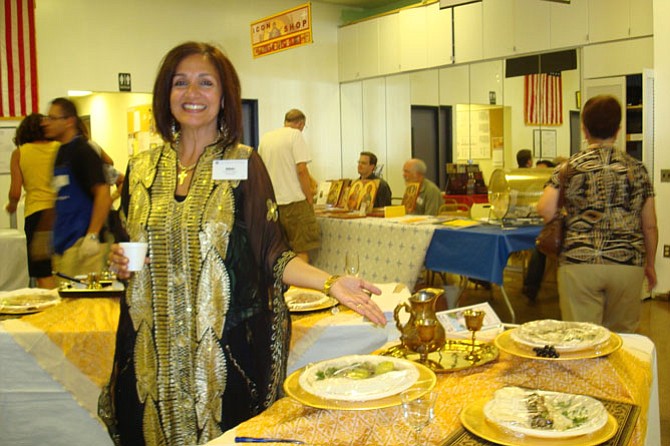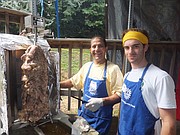 Labor Day weekend marks the "unofficial" end of summer and launches the football season. Locally, it marks the annual aromatic Middle Eastern food festival hosted by Holy Transfiguration Melkite Greek Catholic Church of McLean. For two days, area residents can feast on shawarmas and kabobs, and gooey, honey-laden Middle Eastern sweets. Beyond being a church fundraiser, the food festival is community outreach, an introduction to the culture of Middle-East Christians.
"We do this because it's our way of reaching out with our message about our faith and hospitality's role in it," said Father Joe Francavilla. "Our faith and traditions comes from where Christianity began, Jerusalem. Our food festival welcomes people to our church. It's an incentive for people to come and try our food, and, in the process, experience the hospitality of the people here."
The 22nd Annual Middle Eastern Food Festival, celebrated Sept. 5 and 6 on church grounds, features Middle Eastern food – the kind families make at home - pastries, music and dancing, along with children's outdoor activities, and vendors. Kids can jump in a bounce house, have their faces painted, pet farm animals and take a pony ride.
It takes 250 pounds of beef, 250 pounds of lamb, 450 pounds of chicken, 200 pounds of butter, 150 pounds of sugar, and 100 pounds of flour – not to mention the boxes and boxes of phyllo dough – to pull off this annual food festival.
The shawarma meat – beef and lamb, and, chicken - is marinated, roasted and shaved, and cooked slowly for hours to infuse the spices. The ground beef kofta is grilled, as well.
The kitchen serves entrée platters, sandwich platters, a lamb dinner, a la carte items and thousands of sweets from date shortbread cookies to baklava.
Prices range, approximately, from $3 for a meat pie, made of ground beef, onions, tomato, and spices in a yeast dough to $15 for the roasted lamb dinner.
"The first year I did this, we sold $300 worth of sweets," said sweets chair, Samira Bailey in her 21st year organizing sweets. "Now, we're selling $15,000 worth gross." The volunteers are making approximately 12,000 pieces of sweets to sell at the festival.The Wednesday before the festival, the preparation of the shawarma process begins. Sweets, except baklava, are baked in August and frozen for the festival.
Bailey said her participation in the festival is rooted in the historical backdrop of the Middle East. "It's my way to keep our traditions alive," said Bailey. "Most of us Christians from the Middle East have moved out … there is always religious conflicts. We leave and this is one way to keep our traditions alive."
The Holy Transfiguration Melkite Greek Catholic Middle Eastern Food Festival runs from 11 a.m. to 11 p.m. Saturday, Sept. 5, and from noon to 6 p.m. on Sunday, Sept. 6. The roasted lamb dinner is sold from 6 to 9 p.m. on Saturday and all day on Sunday.
"We love to share what's most precious to us, which is faith in God," said Father Francavilla. "We share our faith through hospitality. You have to understand the role faith plays in our daily lives."
"When you are in someone's house, sharing a meal, you are protected and treated with respect. When you are a guest here, you are treated like that."
Festival admission and parking are free, and the festival runs rain or shine. To learn more, call 703-734-9566 or visit: www.MiddleEasternFoodFestival.com. Holy Transfiguration is located at 8501 Lewinsville Road, McLean.