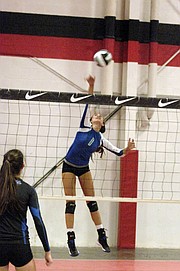 The South Lakes volleyball team has two star hitters, a new head coach and some lofty goals.
On Saturday, that combination earned fourth place at the NVVA Invitational.
The Seahawks, led by head coach Mike Ware, defeated South County and lost to eventual champion Oakton in the second round of pool play before falling to Fairfax in the third-place match on Aug. 29 at the Virginia Volleyball Center in Sterling.
"Considering that they're getting used to my system and Vela [McBride] was only out of her walking boot for three days and had only practiced the day before with the team for the first time, we did pretty well," Ware wrote in an email. "Our overall performance didn't meet my expectations, but we'll be a force to reckon with before this season is over.
"It was our best finish at this tournament in years."
Ware, who has 16 seasons of international-level playing experience, takes over the South Lakes program after coaching club ball the last three seasons at Areyto Volley in Ashburn. The Seahawks went 9-16 last season and failed to qualify for regionals.
This year's team is led by a pair of senior standouts in McBride, who is committed to Navy, and Melody Caloyannides.
"Players like Melody and Vela don't come around every day," Ware wrote. "Yes they're tall, fast, smart, and athletic, but they're also great leaders who are super competitive. They lead by example with their strong work ethic and coachability. Many times they're the first at practice and the last to leave. I have to chase them away at times. I'm going to miss them tremendously when they are gone."
Ware called senior Kristina Brownell "a dynamic outside hitter who can turn bad sets into highlight reel kills," and also mentioned juniors Rachel Abelson and Kristin Allgaier as key players.
South Lakes will travel to face T.C. Williams at 7:15 p.m. on Thursday, Sept. 3.
"My expectations and goals are pretty high and I've set a high standard for this team," Ware wrote. "Our goals are to win our conference and go undefeated at home. Our dream is the state finals."