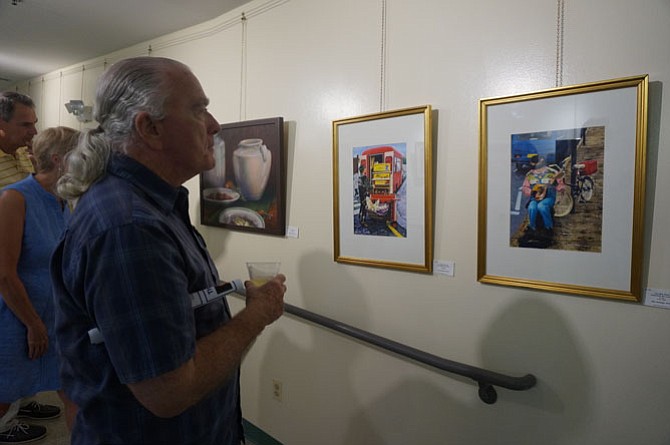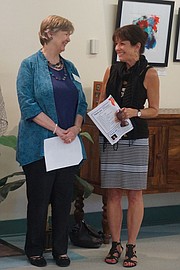 When artist Wilda Gadzik finally got around to taking a formal art class as a resident of Goodwin House, it wasn't her familiar paintbrush she was told to reach for. Instead, the 87-year-old was handed a pencil.
"I had never worked with a pencil in my life," said Gadzik, who usually works with acrylics. "Then suddenly two months ago a piece of paper was put in front of me and I was told to draw myself. Without thinking, I just started drawing and when I stepped back, I couldn't believe it. All I could say was 'It's me!"
Gadzik's self-portrait in pencil was one of 63 works selected for display as part of the 29th Young At Art juried art show for artists aged 55 years or older. Co-sponsored by the Goodwin House Foundation and Senior Services of Alexandria, the show held its opening reception and awards ceremony Aug. 26 at the Durant Arts Center.
"This is always such a special night," said SSA executive director Mary Lee Anderson. "There are so many talented senior artists in the area and with the support of the Goodwin House Foundation we are able to showcase those talents."
Works were submitted by teachers, professionals and amateurs in mediums ranging from oil and acrylics to digital composition, fiber and mixed media.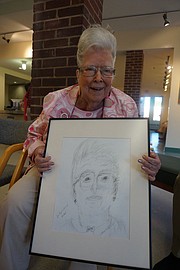 "We are proud to be the organizers of this major art show in the Washington area," said Jeanne Jacob, executive director of the Goodwin House Foundation. "We are also grateful to our generous sponsors for helping make this event happen."
Financial supporters for Young At Art include David Martin and GoldWorks; Sue and Allison Goodhart; Redmon, Peyton and Braswell; Fiske Law Group; ACC Family; Speck-Cauldron Investment Group of Wells Fargo; Renner and Company; Nina Tisara; Donnan C. Wintermute; Councilwoman Del Pepper and Mayor Bill Euille.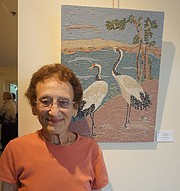 Chris Haggerty, professor of Fine and Applied Arts at Marymount University, served as juror for the exhibit that included 114 pieces of submitted art. Winners of the 2015 Young At Art show include: First Place: Charlotte Landis, "Winter Sycamore," watercolor; Second Place (tied): Gretchen Thompson, "A Warm Church Window," watercolor, and Lisa Gillespie, "Emerging," watercolor; Third Place: Michael Franz, "Life On an Even Keel," watercolor.
Gadzik, a Young At Art show veteran, was excited about the feedback generated by her foray into a new medium.
"Everyone has been so encouraging," Gadzik said. "While I still prefer working in acrylics, this has been a wonderful experience for me."
The Young At Art exhibit will remain at the Durant Arts Center through Nov. 20 and many pieces of art are for sale by the artists. For information on the Durant Arts Center hours, call 703-519-3494.