Erin Lenart, Lanier Middle School's new principal, always pictured herself as an educator. Raised in Tennessee, her first dream was to become a teacher.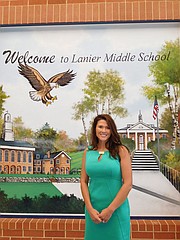 "When I was 3 or 4, my brother came home from school and told me about his wonderful teacher, and I was mesmerized," she said. "I had a chalkboard, a picnic table and benches, and I 'taught' my stuffed animals."
Then in high school, said Lenart, "I had an English teacher who challenged, frustrated and inspired me to the core. She made me better and want it more – she put the fight in me."
So the determined young woman obtained a bachelor's in English from Austin Peay State University in Clarksville, Tenn., a master's in educational leadership and an administrative license. Along the way, she also fell in love and married an Army intelligence officer, Michael Lenart. He's now a major and they have a daughter, Chelsea, a freshman at GWU.
Erin Lenart taught high-school English in both Tennessee and Georgia before moving with her family to Northern Virginia when her husband was transferred to the Washington, D.C. area. From January 2009 to June 2010, she was an eighth-grade English teacher at Thoreau Middle in Vienna.
"I loved the challenge of the kids and figuring out how to reach them," she said. "I was taking what I'm passionate about and getting them to be engaged in it and love learning through my content and teaching methods. It was also about getting to know the kids."
IN LENART'S OFFICE at Lanier is a framed saying from a former student. It reads, "A teacher plants seeds that bloom in a life forever." And, said Lenart, "I really believe that. And you get another chance every August; it's a rebirth, a renewal. You always get to try to improve and do better."
She also had good leadership examples in her life. One of them was Bruce Jobe, her principal at Northwest High in Clarksville. "He was phenomenal – probably the most inspirational person I ever worked for," she said. "He supported leadership development and innovative practices."
In Lenart's second year teaching there, he asked her to be a class sponsor. The next year, he put her in charge of all the school-spirit activities for students and staff. He also placed her on the superintendent's advisory council because, she said, "He saw great potential in me. I was hungry to learn and absorb new things, and he urged me to go into administration."
One of her priorities, she said, is to stay as connected with the students as possible. "You get into this profession for the kids," said Lenart. "And the more we're out there, the more we understand what teachers are doing and understand where the students are currently and their struggles."
After teaching a year-and-a-half at Thoreau, she became the assistant principal there. "I loved it," she said. "I really learned and better understood collaborative teaming, quality assessments and community-building because Thoreau already had these structures in place."
Eventually, though, Lenart wanted to apply those concepts at the high-school level "to make a difference for kids and our profession, because that's our future." So in February 2012, she became the assistant principal at West Springfield High.
"It was a fabulous community, with phenomenal teachers and a supportive region and cluster," she said. But she wanted to be a principal so, when Lanier Principal Scott Poole left to become Woodson High's principal, she applied for his job and got it.
"He was much beloved here and did some fantastic work," said Lenart. "It's a family at Lanier and I feel privileged to join it. Even three of the state senators went here, and how lucky am I to be in Fairfax City and work with Superintendent Peter Noonan, Assistant Superintendent Phyllis Pajardo, Assistant Superintendent of Region Five Frances Ivey and Executive Principal of Region Five Becky Baenig?"
Lenart was officially announced as the new principal, shortly after the school year ended. "I was ecstatic," she said. "Lanier always felt right to me – the demographics of the community and the diversity."
"I knew Scott a few years and was familiar with this school and the fine work in teaming going on here," she continued. "And the more I researched this community, I felt a strong match to it. I'm half Korean, and being able to work in a diverse community helps you understand your own diversity."
Besides that, said Lenart, "Middle school is such a fun, quirky time for students, where kids are trying to come into their own identity. They come in a little unsure of themselves and, within two years, they leave with a level of confidence and some assuredness about what's next. It's so fascinating to see and be a part of this process."
She began her new job July 1 and started meeting the teachers and staff. "The feeling I get is that Lanier is a family that grows together, celebrates successes together and asks tough questions of each other," she said. "And we all rally around our students."
Lenart also praised the level of commitment to the school by its teachers and senior leadership. Her philosophy of leadership is to "lead from the center, hear all perspectives and never, ever forget what it's like to be a parent, teacher or student. So when there are decisions to be made and initiatives and work to be done, you may not make everyone happy, but at least you can articulate [the reasons for] it to your community and understand the ripple effect. It really does take a village."
She plans to continue Lanier's focus on literacy in all content areas, saying it'll come from the teachers. And she noted a "sense of urgency" in making sure students are on grade level by the time they leave there. Although Lanier has some of the most state-of-the-art technology, Lenart said that, with Fairfax County's budget challenges, the school will "take a hard look at reallocating some of our resources to have a replacement plan for it."
She also intends to examine Lanier's remediation and enrichment programs to make sure they're differentiated for each student "to create the prescription each student needs to be successful."
LENART EXPECTS the toughest part of her job to be finding the balance between work and home. "Because I want to learn so much, I'll have to pull myself away from work so I can get home to my family," she said.
The most satisfaction, said Lenart, will come from "working with the staff to better understand what made them so great so far and what opportunities I can bring to the table to help our school grow." She's also excited about "getting to be with the students, relearning the middle-school mindset and being a part of what's next."
And she's looking forward to getting to know the parents via coffees, the PTA and informal meetings at school and community events in the City of Fairfax. Said Lenart: "I want to let them know that my work is our work, so I welcome their voice."