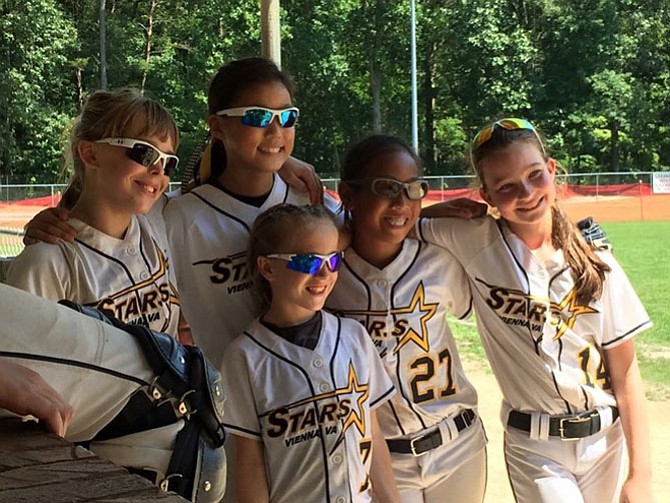 Sarah Semko and The Vienna Stars '04 amassed what the Washington Nationals couldn't this 2015 season: a 43-game winning streak.
"It's fun winning, but it's also fun to know you got good at something," said Sarah, of Great Falls Elementary School. "I like that it's a team sport and we all get to know each other and I got to make some really great friends that I'll know for a long time."
The Vienna Stars '04 softball team, a 10-U team meaning players are under 10 years old, won the United States Specialty Sport Association National Championship in Salisbury, Md. in July.
"I was so happy and I was just out of words," said Katelynn Park, of Vienna. "I just started crying and everyone else was so emotional, too, and we jumped up and hugged and started screaming," she said. "It was a great time."
The team defeated every opponent in the national tournament and won seven of the eight games they played on the "run rule" or "mercy rule."
"Top to bottom, this was the best hitting team out there. Many teams have three or four girls that can perform at the plate. But, with our team, even the bottom of our order could slug one out, or knock a few into the gaps. It really was an amazing hitting performance, all year long," said Coach Rich Levin.
The Vienna Stars won the Virginia state tournament in June.
They competed against state championship teams from Virginia, Maryland, New Jersey, New York, Delaware, Pennsylvania and Illinois.
"It's a pretty big accomplishment," said Semko's mother Jennifer Semko.
THEY CREDIT coach Levin for words of inspiration that became a team motto: Building a championship one practice at a time.
"It isn't playing softball that makes you better at softball, it's practicing softball that makes you better," said Levin, of Chantilly.
The girls practiced twice a week as soon as Levin selected his team during a tryout period in August of 2014.
During the winter, the 10-year-old girls practiced in a warehouse.
Some players drove more than an hour to get to practices in Vienna.
The parents noticed the improvement and progress they made together.
"It was a lot of fun," said Jennifer Appleton, mother of Emma Kate Appleton, residents of Great Falls. "Watching this team develop from last fall when we weren't sure they would win anything to mid spring when we saw fantastic things from all the girls, they just developed into a team," she said. "The nicest part was how kind and good the girls were to each other. No girl drama here."
"It was very gratifying," said Levin.
"You might have put your finger on what really stood out about this team; no drama," said Levin. "If you take any group of 10 girls and 20 parents, you can almost be guaranteed at least some drama. But not this season. It was amazing," he said.
Rich Levin, has been coaching the 10U team in the Stars program since 1995.

"He knows a lot about the game. He's really good as a hitting coach, a fielding coach and a base-running coach," said pitcher Katie Kutz, of McLean.
"He taught us all he knows. He taught us about everything," said Katelynn.
"I remember when he pretended that we almost gave him a heart attack," she said, when she or her teammates would bobble a pop-up or something like that.
"You can learn a lot," said Emma Kate.
"He has a way to motivate them to try their best and he genuinely loves it," said Jennifer Semko.
"He's incredibly good with the girls. They adore him and he gets them to bring out their own motivation to succeed. He's a hard task master, but you can see his genuine happiness when they succeed," she said.
Sarah Semko said her father knew the team was "going to be the best team ever" even when she didn't. "But I knew it would be a good thing to play for Coach Rich because I knew he was so good," Sarah said.
"It was fun winning, of course, but our coach never talked to us the way he did when it was our last game. He was always silly and goofed around with us, he was trying to be a coach, he would prepare us for the next game. But he gave a big speech at the end," she said. "I didn't want the season to end."
LABOR DAY WEEKEND, the girls and their former coach, were getting together to celebrate this summer achievement with jet skiing, waterskiing, barbecue, swimming and fun.
And the girls got to finally cash in on a bet they made with their coach during the fall.
Because they won the national championship, they earned the right to dye their coach's hair blue and gold, the team colors.
"ARGH! Who told you?" said Levin.
"The whole story is that the girls wanted some kind of reward for winning one tournament. Like a trophy isn't enough.

"And they kept asking me, over and over, 'If we win a tournament can we dye your hair?' Over and over.
"And this was only September. So finally I couldn't take it anymore, and said, 'If you win nationals, you can dye my hair.' And, you know, give them credit, that was the end of it. Until the end of spring. Who knew they'd even remember? Oh, well, it was worth it."
"He's gonna look really silly because it's six-week dye," said Sarah. "One of my teammates picked it out because her aunt is a hair stylist. We wanted to make sure it would be permanent."
"The mustache is off limits. Coach Rich wanted to make sure of that," said Sarah.
All but one girl moved on to compete for the 11U Vienna Stars '04 this year, and the team will compete in many 12U tournaments for the next two years.
Levin helped the girls build themselves a foundation of champions and stars.
"We have three girls that will attend Langley High," said Levin. "So you folks out in Great Falls should have a really good softball team in about four years."