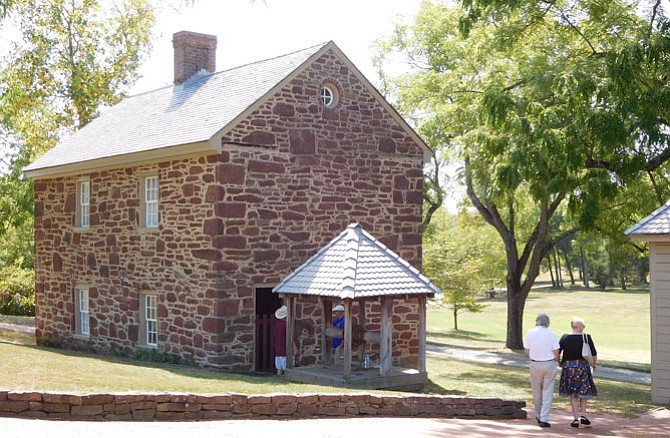 Details
Sully Historic Site is off Route 28 in Chantilly, at the same exit for the air and space museum annex. It's open every day but Tuesday, from 11 a.m.-4 p.m.
Photo Gallery
Sully Historical Site
Click Photo for Flash
Chantilly — The Sully Historic Site in Chantilly provides a window into late 18th-century life in Northern Virginia. And on Sunday, Sept. 6, volunteers, visitors and dignitaries gathered to celebrate the 40th anniversary of its restoration.
"History comes alive at Sully," said Hal Strickland, Sully District's representative on the Fairfax County Park Authority Board. "More than 200 years after its construction, this historic site continues to shape our understanding of the past."
On the approximately 130-acres of rolling hills and trees stands a three-story house, plus a separate kitchen/wash house building, smokehouse, lumber house and stone dairy. Built in 1794 on a land grant from Lord Fairfax, Sully was originally home to Richard Bland Lee who, in 1789, became Northern Virginia's first representative elected to the first federal Congress.
He and his family lived in the house until 1811. Following them were nine other families who helped preserve the home and land. Reflecting the county's history, too, Sully was a multi-crop farm, a dairy farm and a gentleman's country home before being deeded to the county Park Authority to become a museum.
During the anniversary celebration, visitors toured the buildings, learned about their architecture, the structural changes various families made, plus the restoration work of the Park Authority from 1959 through now. Most of this work was done in 1974-75 and, in 1975, the site opened to visitors on a regular basis.
The house is furnished as it was in the late 18th century. Extensive research was done to replicate paint colors, carpets, window hangings and furnishings. And courtesy of the Lee family, many of the objects on display were in the house when it was new.
At one time, though, Sully was on the chopping block — earmarked for demolition due to the construction of Dulles Airport. But an act of Congress saved it in 1959 and the historic buildings were deeded to the Park Authority. Eddie Wagstaff, hired by the last private owner to take care of the property, became Sully's main advocate. In 1969, he established the Sully Foundation to fund furnishings and special projects there. Since then, it's been doing just that, based on the endowment he left.
"Sully is referred to as the jewel in the crown of Fairfax County properties," said Carol McDonnell, Sully site manager, at the commemorative ceremony honoring Sully's preservation. "We're happy to have today's celebration."
Strickland called the staff, volunteers and Foundation the "heart, soul, blood and muscle of Sully. The Park Authority management and its leaders have provided vision for the long term, plus an outstanding support staff, and I thank them all for their hard work and commitment."
The site received accreditation from the American Alliance of Museums, and that enables the Park Authority to interpret the federal period of farm life at Sully, including slavery. Since its restoration, 962,478 people — 24,000 annually — have visited it. "Today, kids with iPads come here and learn about classrooms where slates and sealing wax were considered high tech," said Strickland. "They can also participate in churning butter, making ice cream and cooking over an open hearth."
"The house and grounds of Sully make history touchable," he continued. "But none of this could happen without all 60 of our volunteers. And without the Foundation, Sully wouldn't be the gem it is today. Over the past 45 years, it's given guidance and sweat equity, plus a million dollars in donations."
Strickland also thanked Supervisor Michael R. Frey (R-Sully) for all his support. "He's been a blessing to us in Parks and the Sully District," said Strickland. And he acknowledged his Park Authority Board colleagues for their "wisdom and support," too.
Also playing a vital role was Donald Hawkins, one of four members of the 1960 Historic American Building Survey team. In June 1960, these young student architects measured and drew all of Sully's buildings so they could be accurately preserved.

"It was thought at the time that this old, frame house would collapse under the stress of all the jet airplane traffic from the airport," he said. "And when I first walked inside, I felt like I was in a different place and a different time."
Frey spoke during the ceremony, too. "What a glorious day to be here," he said. Frey thanked the voters for passing the park bond providing the money to restore Sully, as well as the carpenters and tradesmen who brought it back to its authentic 1794 appearance.
Over the years, he said, the families living in the home added "modern conveniences' such as water pipes, electricity and bathrooms, but they all had to go to make it historically accurate. However, cleverly hidden within it are heating, air conditioning and fire protection. And now, it attracts not only area residents, but people from around the world.
"As you walk the grounds and visit the historic buildings, you can feel the times gone by and gain a better understanding of how our founding fathers and their families once lived," said Frey. "It's an important story to tell, and it couldn't have been done without everyone who's taken an interest in it."
"It's been my honor and privilege to be a part of it, and I look forward to working with all of you as we continue to develop the potential of Sully Plantation and tell the story of Fairfax County," he added. "We can all be proud that we have this magnificent structure here with us today."