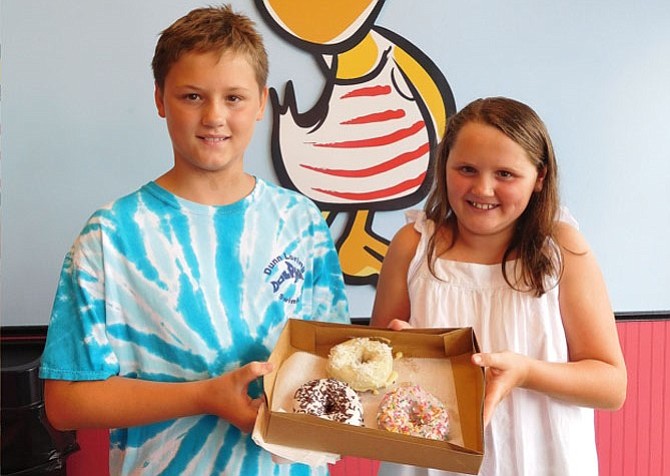 At first glance, Duck Donuts seems like a funny name for a doughnut shop. But those familiar with the legendary doughnut store in Duck, N.C. – from which it gets its name – know it's the real deal.
And now, area residents do, too, since Duck Donuts brought its business to the City of Fairfax. Although the official, grand opening was Aug. 29, the shop actually opened in July – and since then, it's been a huge hit.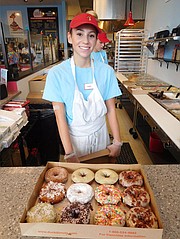 "My family vacations a lot in the Outer Banks [where Duck, N.C. is], so I thought it was cool that they expanded here," said Joel Helmick, JV soccer coach at Paul VI High. "So for me, it's like a taste of the beach up north."
He was there grabbing a quick snack of one doughnut topped with peanut-butter frosting and bacon, plus another iced with vanilla frosting and coconut. "For cake doughnuts, they're really light and fresh," he said. "And if you get a dozen, you don't eat them all at once. But then you can microwave them and they're hot and fresh again."
Meanwhile, Becky Lewis was bringing her children there for the first time. "We've been waiting for the lines to die down to come," she said. "This was our special outing today."
"The doughnuts are good and they're hot," said son Bo. "And you get to create your own."
And, added his sister Emma, "The frosting is creamier than at other doughnut shops."
ALVIN BARNUEVO is general manager of this store and the one in Herndon, which opened in May. They're the first two Duck Donuts outside North Carolina and a third will open in Arlington in October. This shop is in the Fairfax Boulevard Shopping Center at 10694 Fairfax Blvd., and is open daily from 6 a.m.-7 p.m. (To order or for general information, call 571-297-2298).
"We thought this location was great because it's central and visible, on a main road with several access points, across the street from Paul VI and a half-mile from Fairfax High," said Barnuevo. "Plus there are many other retail businesses and car dealerships nearby. To me, Fairfax seems like the center of Fairfax County and Northern Virginia."
Besides that, he said, "Everybody loves doughnuts and lots of people go to Duck Donuts in the Outer Banks on vacation. People were clamoring on social media for us to bring one up here, so we did. It's a quality product, made-to-order, hot and fresh."
Barnuevo said they're different from other doughnut places because customers are able to see their doughnuts made right before them. They can watch the whole process from the dough-making to the fryer to the doughnut toppers putting on the frostings and toppings.
Rue Rusike, operations manager for all the Virginia stores, said they offer dense cake doughnuts, 11 coating choices and five toppings. People may have their doughnuts dipped into cinnamon-sugar or powdered sugar or the following frostings: Chocolate, vanilla, strawberry, lemon, orange, maple or peanut butter. They may also be glazed or served plain. Topping choices are shredded coconut, chocolate or rainbow sprinkles, chopped peanuts and bacon pieces.
"I like the lemon frosting and cinnamon-sugar best," said Rusike. "And for people with peanut allergies, we make their doughnuts separately in the back for no cross-contamination. We also offer a make-your-own doughnut sundae with ice cream, whipped cream and your choice of doughnut toppings."
"People used to think of doughnuts as breakfast items," said Barnuevo. "But now, they're eating them throughout the day and night."
"Even people who've never heard of us before come in," said Rusike. "For example, for a date night, they get two doughnuts for $2.60 total."
"And that's really reasonable," added Barnuevo. "In Northern Virginia, you can't get cupcakes for that price. And I think that's why a lot of folks come back – besides being fresh and delicious, our doughnuts are a bargain."
Rusike said business has been really good. Besides walk-in customers, they also get orders for weddings, barbecues and parties. Barnuevo noted the new trend in parties is doughnut "cakes" shaped like pyramids.
AT THE SHOP, customers usually get their doughnuts within 5-10 minutes. But on weekends, they may wait up to 30 minutes. "And they don't mind because they like our doughnuts so much and they enjoy their experience here," said Barnuevo. "They get good customer service and have fun watching the doughnuts being made through the glass. We even have a ledge for kids to stand on so they can see better."
The store gets many repeat customers. "I see some people every day, and they already know what they want when they come in," said Rusike. "Some get doughnuts twice a day – in the morning for their office and in the evening to take home."
Barnuevo said Fairfax Mayor Scott Silverthorne texts him to let him know he was there and liked the doughnuts. "He especially likes the chocolate ones," said Rusike. They also sell coffee and espresso drinks, iced tea, hot chocolate, muffins, fresh fruit and yogurt, as well as Duck Donuts T-shirts, mugs, frisbees and key chains.
And special orders are fine. "The other day, a customer came in and wanted a dozen doughnuts – but with each half different – and we did it for her," said Barnuevo. "Our doughnut toppers took it as a challenge and wanted to do it."
Duck Donuts also does catering; a minimum of four dozen doughnuts and 24 hours' notice are required. It delivers within five miles, but will exceed that for a delivery fee. "We've delivered to a GMU fundraiser and to birthday and employee parties," said Rusike. "And a chiropractor's office wants them every Wednesday for their patients."
Recently, Virgil Swartz brought his daughter Alice, a Providence Elementary fourth-grader, to the shop. "I like watching them make the doughnuts and picking my frosting and topping," she said. "My favorite's chocolate with rainbow sprinkles. And since it's always busy here, it gives me time to talk with my dad."