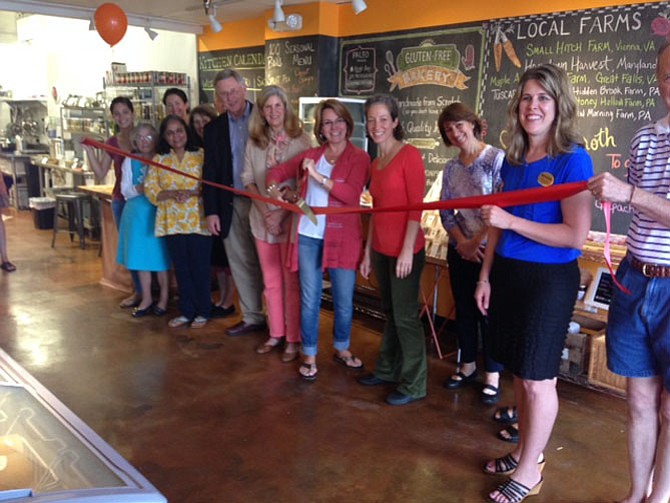 Mayor Lisa Merkel, vice mayor Jennifer Baker, Dranesville Supervisor John Foust and others celebrated the official ribbon cutting of 100 Bowls of Soup this past Saturday, Sept. 12.
Katherine Maridirosian relocated her business to Herndon from a 150-square-foot space in Vienna to 279 Sunset Park Drive in Sunset Business Park earlier this year.
Herndon is home to more than 100 restaurants and 1,300 businesses, according to Dennis Holste, economic development manager for the Town of Herndon. More than 40 businesses are now located in Sunset Business Park, including 15 restaurants.
"When the two kettles are going, piping hot, it smells spectacular. It could be the spices in the curry lentil, it could be the tomatoes in the the tomato basil, it could be the aroma from the chicken stock; the smells and sights are part of the experience," said Mardirosian, owner.
Hands-on cooking classes are planned for the fall and Mardirosian wants to help customers learn the preparation and cooking of simple, fresh, nourishing meals from scratch as well as gluten-free baking.
"Part of our mission is education and enrichment," she said. "People aren't just looking for the how to, but the why; why is this good for me, why should I eat this way, why should I choose these ingredients, why should I choose this way of life?"
Mardirosian shares her kitchen space with Deborah Gudelsky of Deborah Joy's Gluten Free and Deepa Patke of Aromatic Spice Blends.
"I started 100 Bowls of Soup in 2009 with the idea of sharing simple, homemade nourishing soup and stock with friends and family. I wanted to create soup from scratch and real bone stock that was as flavorful and fresh as it was nourishing," she said.
Her soups are now available at MOM's Organic Market, The Organic Butcher of McLean, Maple Avenue Market in Vienna, Salud in Great Falls, and online via Washington Green Grocer and Hometown Harvest.
The kitchen, open Monday through Saturdays from 11 a.m. to 5 p.m., features seasonal soups, vegetable and meat stocks, bone broths, gluten free baked goods, spice blends and chutneys. The soup menu changes with the season.
In the fall, the store will offer hot soups along with steaming stock and bone broth by the cup. All of the soups are gluten free.