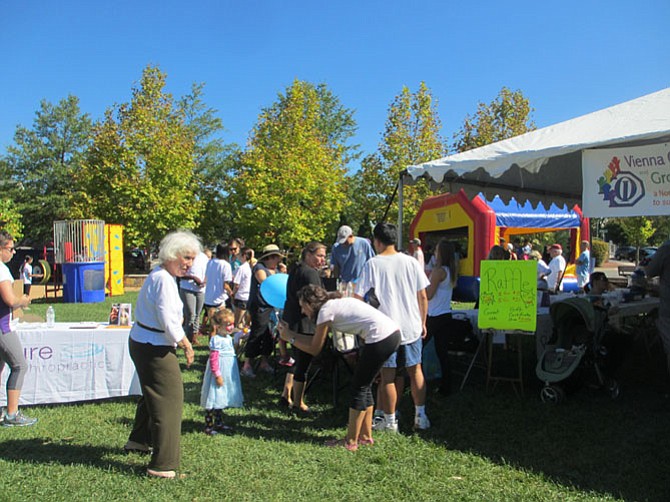 The Optimist Club of Greater Vienna hosts its 10th annual Family Fun Day on behalf of "Growing Hope," in support of children diagnosed with cancer and their families, on Saturday, Sept. 19 on the Vienna Town Green. Family Fun Day, aimed at providing a day of relief to children fighting cancer, doubles as a local fundraiser, as well. The free event runs from 10 a.m. to 1 p.m.
"This is a local event supporting kids in-need in the local community," said Optimist and "Growing Hope" committee chair, Anna Ryjik. "Supporting local children is an Optimist goal in itself." Ryjik said the local angle is something that drew in sponsors such as BB&T Bank, Manna Capital Management, and Johnson Robinson CPAs.
Family Fun Day for Growing Hope offers live musical entertainment, free refreshments, a face painter, balloon artist, and a live auction and raffle to raise money for "Growing Hope."
Local businesses and individuals, particularly generous donors belonging to the Vienna Optimists, sponsor the event and the Optimists' programs. Ninety percent of funds raised goes directly to "Growing Hope," a Northern Virginia nonprofit resource supporting families going through cancer treatment. "Growing Hope" works in partnership with Northern Virginia pediatric oncology offices.
The resources of "Growing Hope" are free, from a day at an amusement park to pizza parties. The remaining 10 percent is directed to pediatric cancer research at Johns Hopkins. The Vienna Optimists service organization has raised more than $350,000 for childhood cancer research and "Growing Hope" since 2006.
For more information on Family Fun Day or to learn about the Optimists' mission to help youth, go to www.optimistsclubofgreatervienna.org.