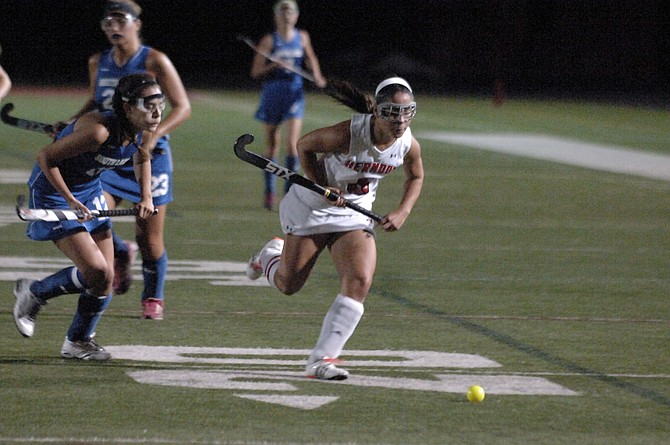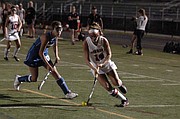 The question facing the 2015 Herndon field hockey team: How would the Hornets, defending Conference 5 champions, handle the graduation of several key players, including first-team all-state selections Taylor Stone and Sofia Palacios?
The answer, at least through 10 games: quite well.
After dropping two of its first three games, Herndon has responded with a seven-game win streak, including Thursday's 7-0 trouncing of rival South Lakes at Herndon High School.
Last season, the Hornets won their first conference/district championship since 1979 and fell one victory shy of qualifying for the state tournament. Herndon finished 19-3, producing a margin of victory of at least three goals on 15 occasions.
Gone from that team are midfielder Stone (now plays for Louisville), forward Palacios (now plays for Penn), defender Alexis Duke (second-team all-state selection) and midfielder Jamie Wright (now plays for Dickinson), among others. Herndon has continued winning, however, although many of its victories have been much closer.
"It was kind of good to get the articles out of the way," Herndon head coach Mary Miller said. "We knew the storyline was going to be 'How's Herndon going to do?' I've been very impressed the way they kind of have let that go and developed into their own team. It's definitely closer wins and closer games, and it's much tighter and it sometimes maybe isn't as pretty, but they've been pulling it out."
The Hornets won the Herndon Invitational Sept. 11-12, going 4-0 during the two-day event. Herndon pulled out three one-goal victories during the tournament, and defeated Battlefield 2-0.
"We're playing really well," Miller said. "… I always like having the tournament a little bit later --- not in the summer, just a little bit later --- because I feel like it gives us some momentum, especially if we can play well and win."
While seven of Herndon's first nine games were decided by two goals or less, Thursday's win over South Lakes was a blowout. The Hornets jumped out to a 3-0 halftime lead and cruised to a 7-0 victory. Senior forward Seara Mainor finished with three goals and two assists for Herndon. Mainor, a team captain, missed the first two games of the season due to an ankle injury.
"She played great," Miller said. "She was hurt all summer. She finished up the soccer season hurt and she didn't play in our first two games. … I think the tournament really helped her fitness-wise and getting back in field hockey shape. She's a tremendous talent, she is so fast and she's got to be reckoned with."
Mainor said she enjoyed beating the rival Seahawks.
"I'm ecstatic," she said. "I went to Langston Hughes, which was the South Lakes middle school, so I know everyone from South Lakes. This was my game. I'm so happy."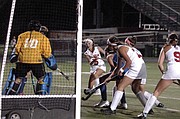 Kristina Caggiano scored two goals for Herndon. The junior midfielder took over as the Hornets' corner inserter this season.
"She's really stepped up," Miller said. "… She's been really good."
Senior forward Kristen Caron and junior forward Sammy Stone, a team captain, each scored a goal for the Hornets. Junior midfielder Grace Caron and senior defender Kaley Selner, a team captain, each had an assist.
Sammy Stone, the younger sister of Taylor Stone, committed to Ohio State in early September.
"She's just a very laid back kind of mature kid," Miller said. "She does it on the field and she's a leader, but she's not trying to take anything over. She can play with anybody and in high school you have to be able to do that. You have to be able to play with all levels of kids and you have to not get frustrated with it and you have to understand it and she does."
Herndon (8-2) will travel to face Thomas Jefferson at 7:30 p.m. on Sept. 25.
"[The strong start has] helped us put our name out there again," Stone said. "… People have seen that we were not built around [last year's seniors] and we're still on the come up. We're still doing more."