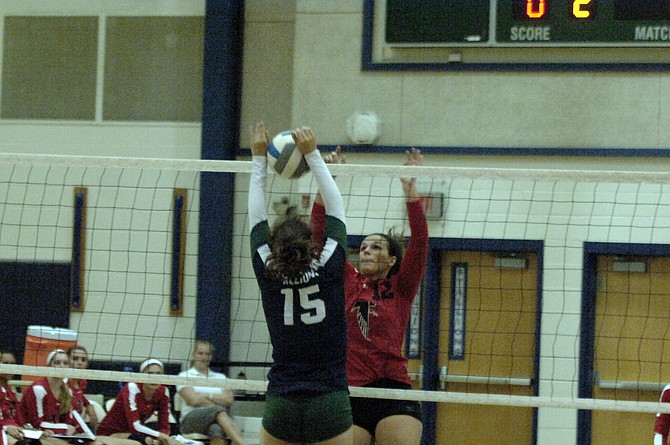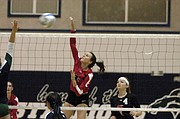 Several familiar faces remain from last season's Madison volleyball team that finished state runner-up, falling in a heartbreaking five-set match against First Colonial.
Three of those faces belong to senior captains Kendal Hall, Jaynie Carter and Natale Zanellato. Hall, a setter, and Carter, an outside hitter, have been on the varsity team since they were freshmen. Zanellato, an outside hitter, transferred to Madison as a junior.
The trio is in the midst of another winning season. On Sept. 24, Carter finished with 11 kills, Zanellato had 10 and Hall, who is committed to George Mason, totaled 29 assists as Madison cruised to a 3-0 (25-17, 25-20, 25-12) victory at South County, improving its record to 8-3.
But while the talent remains for Madison to make another deep postseason run, the Warhawks' best players are dealing with the challenges of transitioning into leadership roles following the 2015 graduation of Marissa Roy and Virginia Moore. Roy, a first-team all-state outside hitter, and Moore, a second-team all-state libero, were on the varsity for four years and were always one grade ahead of Carter and Hall, providing leadership.
"That's what we've been battling," head coach Carrie Hall said. "… Jaynie and Kendal were freshmen when Marissa Roy and Virginia were sophomores, so they've had them kind of leading the way the whole time they're here. Now, my three captains --- Natale, Jaynie and Kendal --- have to find a way to get this team to win and we're finding that identity as it is every day. It's going to be a battle every day until we figure that out. But tonight, I felt like we got a little step closer to that. We really are trying to find that leadership and get it going."
How difficult is it for players to transition to new roles?
"It's a big difference," Carrie Hall said. "I think that's the most apparent thing that we're trying to work on is they're finding their voice in all of this. Before, you had Virginia and she was the voice --- and Virginia was our voice for years --- so those girls grew up with that. So now they're finding they have to be the voice, [and] so far I think they're doing a good job at."
Carter said she has tried to make adjustments to fit her new role.
"I have to be more vocal now, but I've grown into that," she said. "I've gotten more used to it. I like it. I like being able to cheer my teammates on. I scream, I cheer, I make a fool of myself, but I don't even care. I like being able to set a good example for them on and off the court."
While Madison has a winning record this year, the Warhawks have already lost three matches this year after dropping just four in the previous two seasons combined.
On Sept. 15, Madison lost in five sets to Vienna rival Oakton. It was the Warhawks' first loss to a regional opponent since falling to Washington-Lee in 2013. The following night, Madison lost to Stone Bridge in four sets, before beating Chantilly 3-1 on Sept. 17.
"We had a little communication break down last week," Coach Hall said, "but tonight I thought it flowed much better for us" against South County.
Thursday's win was Madison's third sweep of the season. Last year, 29 of the Warhawks' 33 victories came via sweep. Madison entered the state championship match with a 33-0 record, having gone more than a month without losing a set. Against First Colonial, after going to a fifth set for just the second time all season, the Warhawks earned seven match points. Madison failed to bring home the state title, however, eventually dropping an epic fifth set, 25-23.
The Warhawks are trying to find balance between moving on from the pain of last year's state final loss and learning from the experience.
"To get that close and just to be right there and not reach it, it has a little effect on you," Carter said. "But you learn from it and you take what you did wrong and you apply that to what you do now. I don't really have [lofty] expectations because it's a whole different team, it's a new year …"
Next up for Madison is a home match against Forest Park at 7 p.m. on Tuesday. The Warhawks will host Marshall on Oct. 1 before opening Conference 6 play at home against Washington-Lee on Oct. 7.
"We need to be ready for a team to come out and be gunning for us," Zanellato said. "Since last year, we've been a team to beat. We just have to be ready to not be the underdogs anymore. People are gunning for us. … It's a completely different team. I'm not expecting to go back to states [but] I think it's possible."
While the Warhawks consider themselves a "completely different team," it's still a team with familiar faces that must carry a target on its back for past success.
"It's definitely been a lot of work to keep it up," Kendal Hall said, "but we're definitely improving as the season goes on."