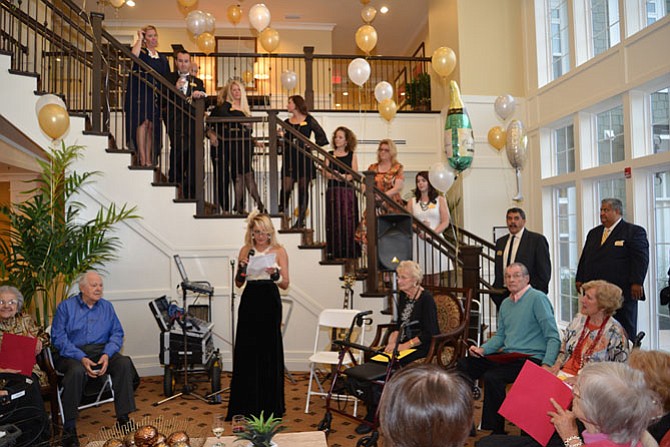 "When you live in a retirement or assisted living community, every birthday is a reason to celebrate – so why not give three cheers to the place itself!" quipped one resident (who decided to remain nameless) of the BrightView Senior Living community in Great Falls, speaking at the facility's one year anniversary bash.
The event was a dress-up occasion, and staff, residents and family and friends alike turned out in cocktail attire for the reception, special dinner and entertainment. Guests could tell they were in for an unusual evening when a smiling gentleman greeted them at the front entry on stilts, towering with impressive ease above the crowd. Inside the main lobby, offerings of flutes of champagne and "Vibrant Great Falls Bellinis" (No, we didn't get the recipe!) ensured that the party really did get started.
Resident John Donahu was one of the first to move in when BrightView Great Falls opened in September 2014. Donahu came to the community because both he and his wife could be accommodated. With the facility's Wellsprings Village section, which offers secure dementia care in a residential setting, the couple could continue to live in proximity, despite her deteriorating mental health. Sadly, Mrs. Donahu passed away shortly after their arrival, but John has become an active member of the BrightView residents' gang and was found at the gathering greeting friends and enjoying the delights on the unique dessert tray – served on a floating table surrounding a very well-dressed young lady.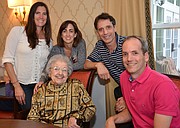 PORTA NICKLES is another resident who thinks birthday parties are "just wonderful!" Nickles attended this celebration surrounded by a table-full of her grandchildren who all live nearby and are frequent visitors. Even her great grandchildren are well known and loved by BrightView families and staff. "They're around here somewhere," laughed Nickles ' granddaughter Aletta. "They are so comfortable here and so welcomed, that they just wander about and mingle with their many friends here." While Nickles is decidedly happy to celebrate the one year birthday of her new home, she's even more excited to prepare for her own 100th birthday, coming up early in the new year. "I'm ready! My life here is full and rich and I look forward to every day," she said, just before heading off to join the group of residents who were preparing to sing a special BrightView ditty written and conducted by their beloved, piano-playing Josh Graf, director of Vibrant Living at BrightView Great Falls.
Brightview Great Falls is part of Brightview Senior Living, LLC, based in Baltimore. To residents like Donahu and Nickles, it's no wonder the company keeps expanding the number of its communities throughout Virginia, Maryland and beyond. "It's really all about the wonderful staff," said Ann Corsino, who has been in residence for about six months. "There are so many lovely, caring young people here. They really brighten things up." Donahu and Nickles agreed that the staff is the key ingredient to the community's success. Both cited numerous staff members for their professionalism, respect, and "just liking to have and share in a bit of fun!"
Once the gourmet buffet dinner, prepared under the direction of Chef Meldo, was reduced to not much more than leftovers, it was time for welcomes, toasts, singing, party favors, and some serious rug-cutting. ("That's 'dancing' for you young folks who might not know that expression," the partygoers were educated by several residents.) Executive Director Tina Aulakh made those welcomes and toasts, and then led the introductions and applause for the staff, praising them for their part in "getting us to this wonderful day." After acknowledging her team, Aulakh told the attendees that the "real reason we are here this evening" is because of the residents, thanking them not only for choosing Brightview Great Falls as their home, but for enriching the lives of those "privileged to be part of your family here."
THE EVENING'S ACTIVITIES were scheduled to conclude at 7:30 p.m., but it was obvious by the numbers hitting the improvised dance floor of the facility's "great room" that the action was only just getting started. It seemed a given that everyone inside the Brightview Great Falls community are ready to take Porta Nickles' advice and "live life to the fullest and look forward to every day."
Tina Aulakh, and Community Sales Director Joanna Banks invite anyone interested in exploring senior living options either for themselves or for family members to contact Brightview Great Falls or any of their other locations. "We do a number of 'get to know us' events," said Banks. "And our residents love to show people around." The community is located at 10200 Colvin Run Road in Great Falls and can be reached at 703-759-2513 or see their website www.greatfallsva.brightviewseniorliving.com.