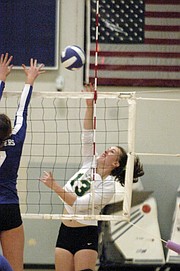 With the Chargers having gone 10 days without a match, Chantilly volleyball coach Charles Ezigbo had limited expectations entering Monday's meeting with Langley.
"I was really happy that we competed tonight --- that's my main thing," Ezigbo said after Monday's action. "I just wanted to compete after that long layover."
Facing one of the top teams in the region, Chantilly did more than just compete.
The Chargers overcame a potential back-breaking fourth-set loss and a late fifth-set deficit to defeat the Saxons 3-2 (20-25, 25-22, 26-24, 25-27, 15-13) at Chantilly High School.
Langley head coach Susan Shifflett was frustrated with her team's inability to capitalize.
"We had 16 unforced errors in the first set and 20 unforced errors in the second set," Shifflett said. "And then our match point is a silly ball into the net. I'm a little frustrated with not taking care of the ball. We had a stretch there for two weeks where we were just on fire and they had the fire in their belly and now all of the sudden they've gone flat. Hopefully we can get that back together, get back to practice and start fresh again."
The defeat dropped Langley's record to 10-3.
"I told them they need to learn from it," Shifflett said. "You can't do that to the ball. You can't keep doing those kinds of mistakes and expect to be where we need to be when it counts. No, I don't want them to forget about it. I think they need to dwell on it a little bit."
Langley will return to action at 7 p.m. on Thursday, Oct. 1 with a road match against Potomac Falls.