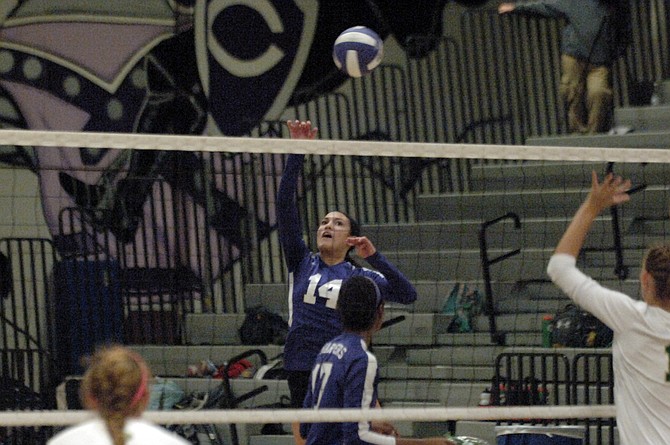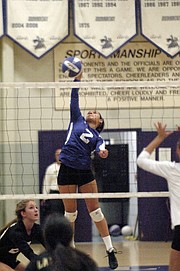 With the Chargers having gone 10 days without a match, Chantilly volleyball coach Charles Ezigbo had limited expectations entering Monday's meeting with Langley.
"I was really happy that we competed tonight ­­­ that's my main thing," Ezigbo said after Monday's action. "I just wanted to compete after that long layover."
Facing one of the top teams in the region, Chantilly did more than just compete.
The Chargers overcame a potential back-breaking fourth-set loss and a late fifth-set deficit to defeat the Saxons 3-2 (20-25, 25-22, 26-24, 25-27, 15-13) at Chantilly High School.
After trailing 11-10 in the fifth set, Chantilly benefited from some Langley miscues down the stretch, along with a key block by Chargers junior Simone Jeffries. The result was Chantilly improving to 5-2 while avoiding a three-match losing skid.
The Chargers had an opportunity to end the match earlier, when a kill by junior Julia Recto gave Chantilly match point, 24-21, in the fourth set. But Langley responded by scoring six of the next seven points, including two kills and a block by sophomore setter Elena Shklyar, to win 27-25 and force a fifth set.
"That's our first fifth-set match and we didn't know how we were going to handle it," Ezigbo said. "Obviously, we have things to learn because we almost gave it away."
While Chantilly "almost gave it away," it was Langley head coach Susan Shifflett who was left frustrated with her team's inability to capitalize.
"We had 16 unforced errors in the first set and 20 unforced errors in the second set," Shifflett said. "And then our match point is a silly ball into the net. I'm a little frustrated with not taking care of the ball. We had a stretch there for two weeks where we were just on fire and they had the fire in their belly and now all of the sudden they've gone flat. Hopefully we can get that back together, get back to practice and start fresh again."
The defeat dropped Langley's record to 10-3.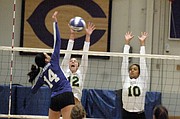 "I told them they need to learn from it," Shifflett said. "You can't do that to the ball. You can't keep doing those kinds of mistakes and expect to be where we need to be when it counts. No, I don't want them to forget about it. I think they need to dwell on it a little bit."
After the teams split the first two sets, Chantilly held off Langley to win the third set, 26-24. The Chargers held leads of 22-17 and 24-21, but thanks to four kills and a block by Shklyar, Langley battled back to tie the score at 24.
Chantilly would not let this set slip away, though, as Recto responded with back-to-back kills, giving the Chargers a 2-1 advantage in the match.
Five-foot-4 junior Milleysha Molina led the Chargers with 19 kills while hitting against the taller Saxons.
"I always just push it to wherever the corners are or wherever it's open," Molina said. "Me being a short player, I can't always hit top-notch [attacks]. I've just got to choose where to hit."
Five-foot-9 Recto finished with 14 kills.
"I think it's really speed and just technique," Recto said about succeeding against the Saxons. "Our setters did a great job of getting the sets where we needed it to be and we kind of just had to trust our defense to tell us where we needed to go to get a kill."
Alexa Carlisle, Katerina Bagatska and Brynn Feighery each had five kills for Chantilly. Jeffries finished with 5 1/2 blocks.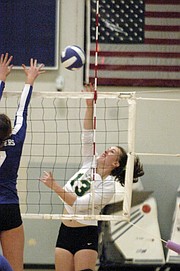 Senior outside hitter Jessica Donaldson led Langley with 15 kills. Sophomore middle blocker Allison Franke had nine kills and senior outside hitter Kristian Stanford finished with six. Senior middle blocker Katie Sissler totaled five kills and six blocks.
Shklyar finished with 13 kills, five blocks and two aces.
"She can do everything," Shifflett said about Shklyar. "She's a good server, she's probably, I think, the best setter, absolutely, in the region, if not in the state, and she's a sophomore. And she can hit a heavy ball."
"If we can have her pass, set and hit to herself, that would be nice," Shifflett added with a laugh.
Langley will return to action at 7 p.m. on Thursday, Oct. 1 with a road match against Potomac Falls.
After a 4-0 start, Chantilly lost to Fairfax (3-1 on Sept. 15) and Madison (3-1 on Sept. 17) before beating Langley on Monday.
"The two games that we lost," Recto said, "definitely humbled us and got us to re-focus on our next matches."
The Chargers will travel to face South Lakes at 7:15 p.m. on Oct. 6.
"It was an amazing feeling," Recto said about beating Langley. "Everybody on the team did their part to really pull through that last set. Last year we lost to them in a regional match, so it just felt really nice to earn our spot back."