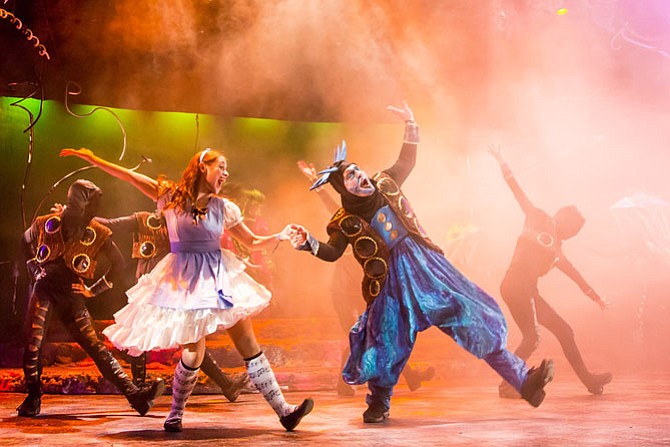 Synetic Theater in Crystal City is showcasing "Alice in Wonderland" in a Gothic-style with dialogue from Sept. 30 to Nov. 8 .Alice's story by Lewis Carroll takes a sharp turn as she falls down the rabbit hole into the dark and mysterious Wonderland. Artistic directors Paata and Irina Tsikurishvili combine their signature cinematic-style with a script by recent Helen Hayes Award nominee Lloyd Rose, that promises to be a fresh take on this fairy tale of the absurd.
Director and producer Paata Tsikurishvili said it's been on "the list" of shows that he wanted to produce for quite some time. "It's a story that offers extraordinary visual and verbal opportunities — the Cheshire Cat, the Hatter, the White Rabbit, even Alice herself — being icons of literature, not just in what they say, but how they look," he said. "I always wanted to revamp these characters in such a way as to leave them recognizable, while at the same time presenting them in a way that is wholly original and unique."
He said that growing up in the part of the world that he did, this was not one of his literary staples by any means. "I think that allows me to come at this material with something of a fresh eye and create an entirely new and startling interpretation that will hopefully really surprise our audiences," he said. "Simply put, I wanted to create an 'Alice' you've never seen before."
He said he was surprised by how difficult the source material was, in that it really doesn't have much of a traditional story structure. "Trying to hammer a logical plot out of verbal nonsense and non sequiturs was probably our biggest challenge," he said. "Since I see 'Alice' as the story of someone beginning their journey to adulthood, I hope what our audiences take away from this is the idea that growing up can be a pretty serious, risky business. I think a lot of people get very nostalgic about their childhoods — a simpler and therefore happier time for some — and while there is perhaps a lot to genuinely look back on fondly, I still think many of us were in much more danger, were in much more risk and much more vulnerable than we ever realized."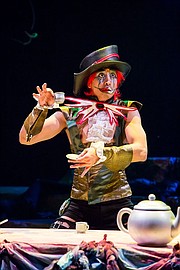 He added: "Hopefully, we had the right kind of guidance to help us avoid the 'land mines,' but they were nevertheless there, whether we saw them or not. I think this is the realization Alice eventually comes to and what I hope our audience will see in this production."
Actress Kathy Gordon plans the role of Alice, a young girl who lives in a world full of confusing and unfair rules. "Each character in Wonderland represents a part of her own self and it's only after she has confronted those aspects of herself does she find her voice and she is able to speak out," she said. "Alice is growing up and has to navigate the adult world and the physical and mental changes that go with it."
She said for every Synetic show, a high level of stamina is needed, but this show in particular has pushed her far beyond that. "All of the training within the company for the past four years has been preparing me for this role and my technique has to be on point," she said. "If I am unsure, I will ask Irina (Tsikurishvili) or another company member to work with me; I am constantly learning what I need to improve."
She said she hopes the audience takes away a sense of magic, excitement and wonder when they see the show. "I think everyone will find something different to connect to within the story but my hope is that you can watch Alice find her way and be an inspiration for girls who come to watch the show," she said.
Renata Veberyte Loman plays the villain role of the Queen of Hearts. "She is the ultimate evil in this story; her favorite thing is chopping everyone's heads off," she said. "The difficult thing about playing a villain is knowing that if I do my job right, nobody will like me."
As far as audience takeaways, she said, "an open heart and naivete can carry you through any situation, no matter how twisted or surreal it may seem to be."
The role of the White Rabbit is being played by Tori Bertocci. "The White Rabbit is always chasing after time but can never seem to catch a break," she said. "She is apprehensive, anxious, and under the employment of the Queen of Hearts (which explains the first two characteristics). She leads Alice through the magic and mystery of Wonderland even though she has no idea that Alice is following her."
She said it was challenging for her to channel the various energy levels of a bunny rabbit. "I want her to be dynamic and so I had to explore and play with different physical, vocal, and emotional characteristics/qualities," she said.
She hopes the audience recognizes the challenges young girls and women face when growing up: "Through Alice's journey I believe the audience will see the realities of the real world and I hope they work to change them for the better after seeing our production."
Synetic Theater in Crystal City is showing "Alice in Wonderland" from Sept. 30 to Nov. 8. Showtimes are Wednesdays through Saturdays at 8 p.m.; Sunday matinees at 2 p.m. Tickets are $15 to $35. Synetic Theater is located at 1800 S. Bell St., Arlington, in Crystal City. For more information, visit the website at www.synetictheater.org.