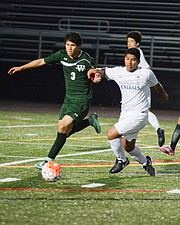 After finishing state runner-up the previous year, the 2015 Washington-Lee boys' soccer team made it through the regular season undefeated, only to suffer a season-ending loss to McLean in the opening round of the Conference 6 tournament.
That loss remains on the minds of the Generals — including star forward Maycol Nunez, who suffered a broken left fibula and ankle against Hayfield last April and could only watch as W-L lost to McLean and failed to qualify for regionals.
"The team and I, we're motivated to go further than last season because that was pretty sad," Nunez said. "I couldn't really do anything from the sideline. This year, I'm going to try to help."
On Monday, Nunez helped W­L with two goals and the Generals defeated Wakefield 4-1 at Washington-Lee High School.
Nunez, who scored 37 goals as a sophomore and was having a productive junior season before his injury, had considered playing for the D.C. United U18 team, but is back for his senior season.
"I was thinking about joining D.C. United," Nunez said, "but it's my last year [of high school] and after all [head coach Jimmy Carrasquillo has] done for me, I really want to help this team and him get the state ring and that's the goal for the whole season."
Nunez is a key player on a W-L team that is ranked No. 1 in the Washington Post. Senior midfielder Lucas Mendes also figures to play a prominent role. Mendes, who will play for the University of Virginia, joined the Generals after playing for D.C. United Academy.
"Overall, I think we're pretty strong everywhere," Carrasquillo said. "We're pretty strong up top. I think in the middle, we have some technical, talented boys. In the back, [senior] Noah Goodkind, that kid has been on with us since his sophomore year."
W-L's Goodkind and junior forward Andrew Kamian each scored a goal against Wakefield.
Monday's victory improved W-L's record to 3-0-1, including a 1-all tie against defending state champion Langley on March 31.
The Generals will travel to face McLean at 7:15 p.m. on Friday, April 8.
The Generals have last season's loss on their minds.
"They're like ... 'We've got to get McLean, we've got to get McLean. That [stuff] is not going to happen this year,'" Carrasquillo said. "I think it's still fresh with a lot of them. I don't need to motivate them. They get that."