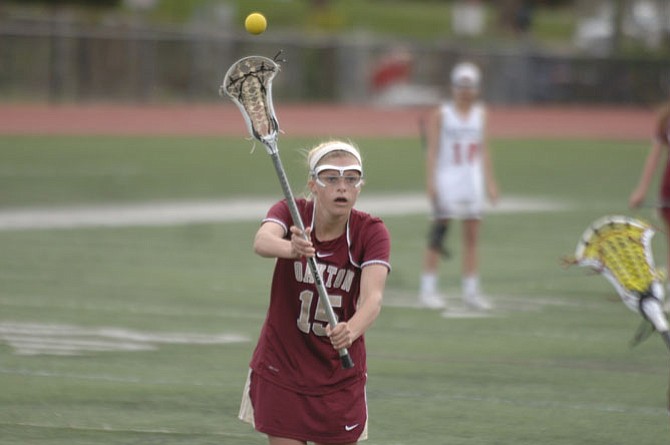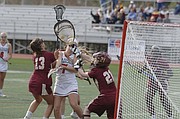 The Oakton girls' lacrosse team lost seven of 10 draws in the first half and 11 of 18 throughout Saturday's game against Madison, but a determined defensive effort helped the Cougars beat their Vienna rival.
Oakton totaled seven caused turnovers and held off a late Madison rally to win 10-8 on April 2 at Madison High School.
A goal by Rachel Pionke gave Oakton a 10-6 lead with 8:08 remaining in the second half. The Cougars received a red card with 5:25 on the clock and surrendered a pair of man-down goals in the next 30 seconds, but managed to maintain their lead.
Oakton had some breathing room thanks to a strong first-half defensive effort. Despite losing 70 percent of the draws, the Cougars entered halftime with a 7-2 lead.
"It definitely takes a lot of mental [strength] because, obviously, [losing draws] gets you down," Oakton junior attack Stephanie Palmucci said. "Lately, we've had a couple games [where] we haven't been on for draws, so I think we've just learned, OK, this isn't our thing, that just means we have to work 10 times harder on defense."
Along with contributing to Oakton's stingy defensive effort, Palmucci, a UConn commit, scored a pair of goals, including one with less than a second remaining in the opening half.
"Stephanie is [an] all-around [player]," Oakton head coach Jean Counts said. "You just can't go wrong with her on the low end, the midfield, the offensive end. She's too unselfish and that's something that we're working on. She just needs to kind of take control because that's the kind of player she is. She's somebody who we rely on greatly because she'll catch whatever comes her way. If the draw is anywhere near her, she's got that implanted magnet into her stick."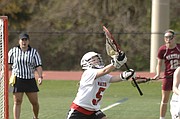 Counts said some of Oakton's most experienced players, including senior Christin Butters and junior Maddie Rouse, are returning defenders, making defense a strength for the Cougars. Senior goalie Elyssa Goldberg and junior Paige Townshend, who suffered a torn ACL early last season, are also key contributors on defense.
Senior Layne Stikeleather and junior Amanda Sabatella each scored two goals for Oakton. Freshmen Alex Burtnett and Evelyn Pickett, junior Taylor Houston and Pionke each had one.
Carly Rogers led Madison with three goals. Caroline Turner finished with two goals, and Anya Saponja, Olivia Choutka and Diana Lowther each had one.
Madison head coach Adam Norton said senior goalkeeper Ellie Socher has had a strong start to the season.
"She's our little giant," Norton said. "She has had a ridiculous start. Her first game as a varsity starter, she had a legit shutout against W-L. [She had] six or seven saves but they weren't gumballs ­­­ they were legit stops ­­­ and we won [16-0 on March 17]. Down in Hilton Head (S.C.) she played lights out, as well."
The win improved Oakton's record to 3-1. The Cougars will host Woodgrove at 7:30 p.m. tonight.
Madison dropped to 3-1. The Warhawks will travel to face Fairfax at 7:30 p.m. tonight.