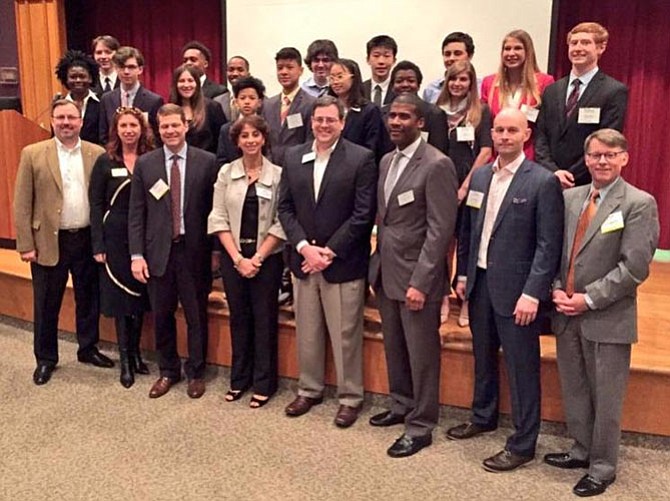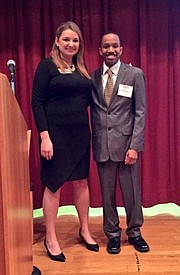 Student entrepreneurs took the stage on March 31 in the Reinsch Library Auditorium at Marymount University to present their business plans before a panel of local business leaders and a public audience.
Sixteen students, ages 13-18,representing nine businesses from the Young Entrepreneurs Academy (YEA!) Arlington had five minutes to pitch their business plans to local members of the business community, during the program's second ever YEA! Investor Panel event. Based on the appeal and merit of the students' plans and presentations, panelists awarded each business the following funds:

AVVO Apparel received $800. AVVO Apparel creates stylish, and affordable handmade t-shirts using a variety of fabrics, sourced mainly from Africa. AVVO Apparel is co-founded by two Washington-Lee High School students, sophomore Rose McGough and senior Dylan Cunningham.

Catch My Bus received their full ask of $540. Catch My Bus is a website that aims to connect to the gps systems in Arlington County school buses to update students and parents on bus schedules and is co-founded by Jill Maisel, a sophomore at Yorktown High School, and Chris Goodhand, a freshman at Commonwealth Academy.
Fresh Charges received their full ask of $420. Fresh Charges builds solar rechargeable battery packs and is co-founded by Jack Ogden, an eighth-grader at Rachel Carson Middle School, and Alex Yu, a sophomore at Yorktown High School.
KLM Caregivers received $800. KLM Caregivers provides support and care for senior citizens while they stay in the comfort of their homes, assisting with errands, administrative tasks and companionship. KLM Caregivers is co-founded by Melanie Hanclich, a sophomore at Yorktown High School; Lee Keller, a senior at Commonwealth Academy; and Kyle Billingslea, a senior at Bishop Ireton High School.
Kudu Lawn Care LLC, a full service lawn care LLC, received $800. Kudu Lawn Care LLC Owner Mark Yates, Jr., is a sophomore at Yorktown High School.
Need 4 Sneaks received $300. Need 4 Sneaks buys, sells and trades limited edition shoes and is co-founded by Ryan Medina, an eighth-grader at Francis C. Hammond Middle School; John Medina, a sophomore at T.C. Williams High School; and Elias Miller, an eighth-grader at Swanson Middle School.
Pivloo, a mobile yearbook platform, received $1,000, which was more than their ask of $790. Pivloo Founder Michael Freeman II is a senior at James W. Robinson Secondary School.
Q Tech received their full ask of $880. Q Tech creates smart phone cord protectors, and founder Quincy Box is an eighth-grader at Gunston Middle School.
Zellybox received their full ask of $802. Zellybox is a subscription box that provides monthly deliveries of tech-accessories. Founder Laura Canseco is an eighth-grader at Holton- Arms School.
Pivloo is a sole proprietorship that offers a mobile app platform allowing users to "snap, shape, and share your memories." Users customize their digital yearbook with captions and decals and share the final product with friends at a fraction of the cost of regular yearbooks. Pivloo was also selected as Arlington's Regional Semi-Finalist of the Young Entrepreneurs Academy Saunders Scholars National College Scholarship competition. Michael Freeman will head to Rochester, New York, in May to participate in the Regional Semi-Finals the Young Entrepreneurs Academy Saunders Scholars National College Scholarship competition, where he will compete for college scholarships, cash prize packages, and the opportunity to attend America's Small Business Summit in Washington, DC courtesy of the United States Chamber of Commerce.
The Investor Panel included the following:
Tina Leone - CEO, Ballston BID
Tim Hughes - Managing Shareholder, Bean, Kinney & Korman
Ron Novak - Co-Founder, Caring Village
Paul Longsworth - Vice President, International Environmental & Nuclear, Fluor
Pinkie Dent Mayfield - Vice President-Corporate Affairs and Special Assistant to the Chairman, Graham Holdings Company
Sean Hosty - Morgan Stanley Wealth Management
Todd Ihrig - H.D. Vest Investment Services
Robb Parker - General Manager, Vornado/Charles E. Smith
Students will now begin marketing and selling their products and services while preparing for the YEA! Trade Show to showcase their goods to the general public. The Trade Show is planned for April 28 at the Ballston BID Farmers Market from 4 - 7 p.m. This event will be free and open to the public.