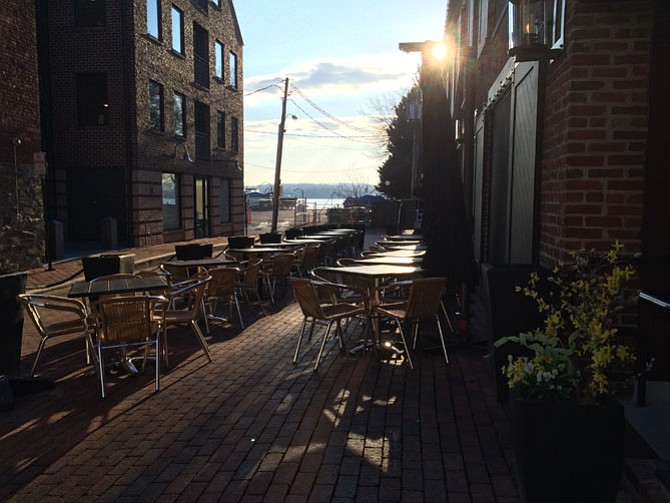 Despite Mother Nature's detour over the weekend, signs of spring are popping up everywhere. Cherry blossoms and Easter bunnies are sure signals of renewal, but when it comes to eating out, there's only one way to tell spring is here: The patio furniture is dusted off, set out, and poised to welcome diners once more. Here are three restaurants that are ready to greet the season.
Los Tios Grill, 2615 Mount Vernon Ave.
On the first warm day of spring, you'll find half of Alexandria waiting for an outdoor table at Los Tios, the venerable Tex-Mex/Salvadoran restaurant on Del Ray's main drag. Don't get discouraged and leave; put your name on the list and linger with your neighbors, because the wait is worth it.
Once you snag a table, you'd be remiss not to order a margarita or mojito. (Pro tip: When your server asks you whether you want a regular or large beverage, be advised that the large is indeed quite hefty.) Munch on some chips and salsa while you peruse the menu, which has something for everybody, from the hardest-core carnivore to the most resolute vegetarian.
If you're aiming to get some vegetables in for the day, consider the tostada salad, which incorporates a choice of proteins (including a vegetarian black-bean version) with a heaping helping of lettuce, tomato, radish, and cheese. Lest you feel this is too virtuous, it's also served in a tortilla bowl — and it's a strong person indeed who can forgo snapping off pieces of tortilla throughout the meal. Or consider the enchiladas, which sing under the cooks' attention. Each style of enchilada comes with a sauce that complements the filling: a green tomatillo sauce for the chicken enchiladas, for instance, or a ranchera sauce with the beans.
Regardless of what you decide on, be sure to say hello to German Mejia, Los Tios' gregarious, ever-present owner. He'll make sure you're part of the family before the night is over.
DRP Belle Haven, 1401 Belle Haven Road
Surprised to learn of a newer sister restaurant to the tried-and-true Del Ray Pizzeria on Mount Vernon Avenue? You're not alone. But the popularity of the Belle Haven storefront is growing, and fast — it's not uncommon to find a lengthy wait for a table, inside or out, at the popular pizzeria these days. But if given the option, choose an outdoor seat, even if it means a few minutes' wait. The patio is well worth the time.
At first blush, the patio seems like a bit of an afterthought — off to the side of the building, nestled in next to an adjacent parking lot. But order a beer and take a closer look around and you'll find a lot of neat hidden elements in plain sight. Most impressive is the vegetable garden the restaurant tends to just behind the patio, growing seasonal veggies all year as the weather allows. And as night falls, look above you — the glowing lights strung up from on high add an air of ambience to the casual scene.
When you're ready to take a break from looking around, order up some grub. As pizza is DRP's stock-in-trade, you'd do well to order one. The Garden offers up a springtime buffet with mozzarella cheese, mushrooms, peppers, spinach, and fresh arugula on top; the Buffalo chicken gives diners a version of wings-on-a-pizza, right down to the blue cheese. Order some roasted cauliflower or tater tots for the table and be prepared to share — and to come home leftover-less. It'll be worth it.
Virtue Feed and Grain, 106 S. Union St.
Virtue's outdoor-dining space is perhaps the most controversial in town. The alley the restaurant's al fresco tables sit on, Wales Alley, was the source of some consternation between the city of Alexandria and the Old Dominion Boat Club for quite some time, with the case progressing all the way to the Virginia Supreme Court before a final decision was handed down a couple of years ago. Now, diners can enjoy Virtue's outdoor accommodations in relative peace. Good thing, too, because the scenery — from the historic brickwork and buildings to the Potomac River within Frisbee-tossing distance — is quintessential Alexandria.
Virtue's menu has transformed over the years, and this iteration is its best yet. Come in ravenous or peckish, eat meat or don't, and you'll find something worthy of your attention here. For outdoor dining, the street tacos add an air of authenticity to the experience: Pork barbacoa, fresh fish, steak, or mushroom varieties will give you plenty to chew on. Taste the fresh grilled flavors and revel in springtime.
Or consider the burgers — the umami burger brings a blend of discrete flavors together in symphony. Or the beet bourguignon, a vegetarian take on the meat version that is sure to knock your socks off with its earthiness and herbiness. Toast the evening with a signature cocktail, inhale the spring air, and relax. Warmer days are here again.
Hope Nelson owns and operates the Kitchen Recessionista blog, located at www.kitchenrecessionista.com. Email her any time at hope@kitchenrecessionista.com.