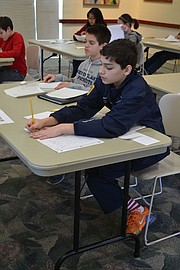 Youth Writing Award Finalists
Julia Toloczko, Great Falls Elementary School
Riley Luce, Forestville Elementary School
Karma Kassem, Forestville Elementary School
Elisabeth Anderson, Colvin Run Elementary School
Luke Tibbs, Forestville Elementary School
Erin Kearns, Forestville Elementary School
Cecelia O'Sullivan, Great Falls Elementary School
Katherine Stockton, Forestville Elementary School
Julia Fremberg, Forestville Elementary School
Miky Kassem, Forestville Elementary School
Reading is imperative for becoming a good writer, so community groups are collaborating to celebrate reading, writing and winners. The first ever Youth Writing Awards Gala will be Saturday, April 30, from 6 to 8 p.m. at the Great Falls Library.

The Friends of the Great Falls Library (FGFL) is underwriting the costs of the event that features award-winning children's author and illustrator Henry Cole as guest speaker. Winners of the second annual Youth Creative Writing Contest, hosted by the Great Falls Writers Group (GFWG), will be announced and read their winning works.
"Our group missions differ, but our goals align," says Michelle Miller, FGFL president, about the partnership to present the gala.
"Many library programs target preschoolers learning to read. Preteens and young independent readers are often missed, and we want to keep them engaged in libraries." In the age of technology and e-readers, the event reminds readers and researchers of all ages about the joys, opportunities, and uses of local libraries.

GFWG invited sixth-graders from Great Falls to write a story or essay about a prompt. This year's subject is shoes. Sneakers, a toddler's scuffed leather shoes, ballet slippers, military boots caked with dried Afghanistan mud, heels, wedding shoes, and others representing people, events, and stages of life — provided participating students a springboard for their stories. Students from Great Falls Elementary, Forestville Elementary, Colvin Run Elementary and the Potomac School participated.
Judges, including educators and a best-selling author, spent weeks poring through student works. Ten finalists have been named from which first-, second-, and third-place winners will be awarded cash prizes at the event. Honorable-mention winners receive prizes, too.
"By recognizing and celebrating the talent of these young writers, we're sending them the strong signal that their words add value and vision to the world they inhabit. Young people need to know that," says Kristin Clark Taylor, GFWG founder. "We need to keep encouraging them to write, write, write — not just as a pleasant pastime, but to survive, and thrive in a world that seems to be placing less and less emphasis on the written word. Today's youth can reverse this trend. They must."