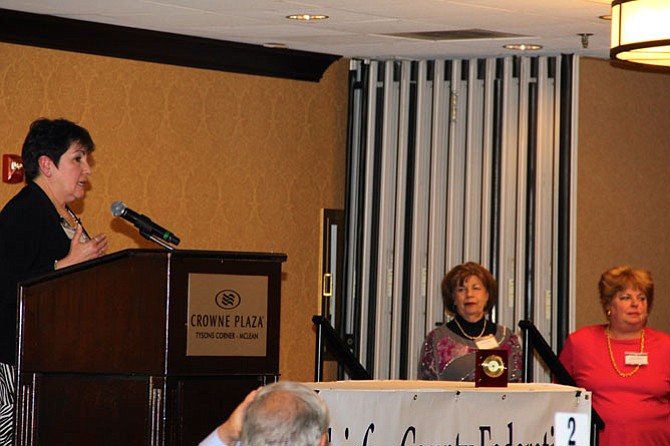 Olga Hernandez was honored at the 2016 Fairfax County Federation of Citizens' annual awards banquet with the 2015 Fairfax County Citizen of the Year recognizing her for her volunteer efforts, including making Fairfax and Virginia residents informed voters. Citations of Merit honorees were Douglas Sanderson, Jim Hart, Phil Rosenthal, and Shirley Ginwright. Sally Sibley received a Special Gratitude Award.
Hernandez has been involved with the League of Women Voters in Virginia for over 20 years. She became a board member of the LWV of the Fairfax Area in 1996 and served as its president from 2000 to 2005. From 2005 to 2007, she served as the vice president and director of the League of Women Voters of Virginia, and in 2007, she was elected president of the League of Women Voters of Virginia. In addition to the presidency, she moderated the Women's Roundtable meetings during the General Assembly sessions.
She served as LWV of Virginia president for four years, and is currently on the state board. She has organized statewide televised Gubernatorial and US Senate debates.
She served on the Help America Vote Act committee for Virginia, the Virginia State Board of Elections Residency Task Force and state Census Complete Count Committee. She is an officer of the Virginia Coalition for Open Government and the LWV of the National Capital Areas. She served on the Fairfax County Bi-Partisan Election Improvement Commission and has also served on various community committees.
Born in Cuba, but raised in Miami, Fla., Hernandez became a naturalized citizen at 18. She graduated from the University of Florida with a degree in Broadcast Journalism.
Her professional experience includes work in radio, public and commercial television news production, and print media in various locations throughout the U.S.
She has done work with Girl Scouts USA, various PTA organizations, military community groups and other non-profit and volunteer efforts. As a military family, her family resided in various states. In 1995 they moved and settled in Virginia.
Visit http://www.fairfaxfederation.org for more information.