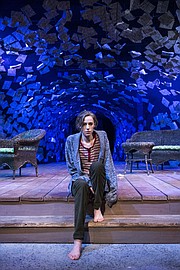 Where and When
1st Stage presents "Proof" performed at 1524 Spring Hill Road, Tysons Corner.
Performances through May 8, Fridays at 8 p.m., Saturdays at 2 p.m. and 8 p.m. and Sundays at 2 p.m. and 7 p.m.
Tickets $30 (adults) $26 (seniors) and $15 (students and military).
Call 703-854-1856 or visit http://www.1stSta...">www.1stStageTyson.... Note: Free Parking. Wheelchair accessible.
In a satisfying character driven play about the fragility of the mind, rich with intriguing dialogue about genius and fears of mental illness, 1st Stage has created a disarming production of "Proof." Written by David Auburn, "Proof" is a Tony Award and Pulitzer Prize winning play.
The title "Proof" refers to questions raised in the play including how one can know what true love is.

Directed by Alex Levy, "Proof" is a fertile drama of unanticipated puzzles that will stick with audiences after the final curtain. Even after playwright Auburn lays bare one of the show's major mysteries at the midpoint of Act I, the 1st Stage production holds audience attention.

"Proof" progresses with candid conversations between a father and his daughter told in flashbacks and in the imagination. Ray Ficca is noteworthy in the role of the mathematical genius father Robert, who has struggled with mental illness. Katrina Clark is top-notch as Catherine, Robert's care-taker, enabler daughter who clearly fears she may well share her father's mental health issues.

Added to "Proof's" mix of attracting characters are Sam Ludwig as a befuddled, but ultimately likeable grad student who finds an astonishing mathematical "proof" in a locked desk drawer. His discovery leads to the gradual unraveling of family secrets as the play moves to its final curtain. Liz Osborne adds bite and patronizing authority each time she appears on stage as Robert's second daughter.
"I'm outside a house, trying to find my way in," these are keywords in "Proof." The team of Kathryn Kawecki's scenic and costume design, lighting design by Robbie Hayes, with sound design by Neil McFadden have created a visual other-worldly space befitting these words and the storyline of a play set deeply into the minds of its characters. The moment the audience walks into the stage area, they will know they are in for a unique evening as they notice beyond a wooden porch with outdoor furniture scattered here-and-there a visual display that comes alive with electric energy.
Patrons of the 1st Stage venue can also avail themselves of a display of over 20 works of art from a juried show of the Vienna Arts Society that accompanies the stage production

"Proof" is another well accomplished, thoughtful production by the award-winning 1st Stage in the energized "new" Tysons area. 1st Stage continues its growing list of accomplishments that also includes recently enlarged theatrical space.