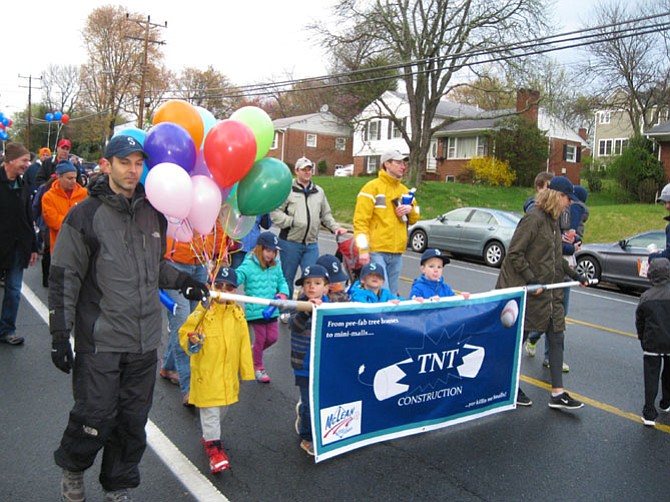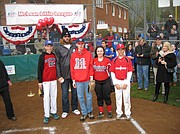 More than 1,300 people on 108 teams attended the 61st annual McLean Little League Parade and Opening Day Ceremonies on Saturday, April 9 in McLean. Led by the McLean Volunteer Fire Department and Auxiliary Police and local dignitaries, the parade route started at McLean High School and proceeded down Westmoreland Street and ended at the McLean Little League Park, Field #2.
In spite of the rain, local dignitaries in attendance included Congresswoman Barbara Comstock, state Sen. Barbara Favola, state Del. Kathleen Murphy, state Del. Rip Sullivan, state Del. Marcus Simon and Dranesville District Supervisor John Foust.
Greeting the little league players on the field with high-five handshakes were baseball and softball team members from McLean High, Langley High, George Mason High and Potomac High schools.
At the awards ceremony on the field, the Scott Bradshaw Leadership Award went to American League player Matt Keay and National League player Brian Gatti. The Karen Vagley Inspirational Leadership Award went to Maria Urban. The Volunteer of the Year award went to (now deceased) Coach Ben Crawford, in memoriam, accepted by son Harrison (wife Stephanie Luongo). And the Honor Roll awards went to Kevin Camphausen, Bill Takis, and Chip and Cat Lippman. It was noted that Wayne Insulation has been a team sponsor for all 61 years.
Throwing out the ceremonial first pitches were Umpire Pat McDonough and Jayson Werth of the Washington Nationals baseball team. The catchers were: Jonah Miller, Zach Reid, Brooke Siegel and Michael Shank. Cooper Middle School Choir sang the national anthem.