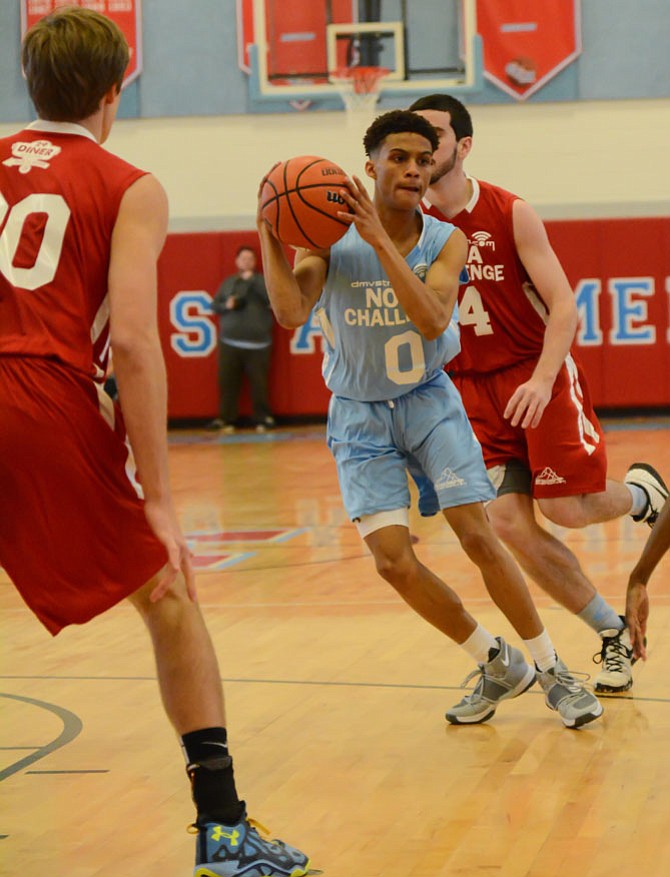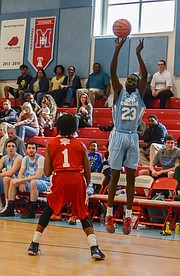 Deng Nhial, Eric Martin and Jonathan Adams helped the Wakefield boys' basketball team win the Conference 13 championship, finish 5A North region runner-up and reach the state tournament. On April 10, the trio suited up for the Fairfax South All-Stars as part of the dmvstream.com Nova Challenge at Marshall High School.
The event featured some of the top talent in Northern Virginia and included two all-star games, a 3-point shootout and a dunk contest. The Wakefield trio competed against the Prince William All-Stars in the first game of the afternoon. Fairfax South led 31-19 at the end of the first quarter but eventually lost 110-107.
Nhial was one of five Fairfax South players to score in double figures. He finished with 16 points, three rebounds, two assists and two steals.
"It's definitely an honor," Nhial said about performing well in a game full of talented players. "Everybody comes out seeing how I perform and it's definitely a great experience."
Nhial averaged 13.3 points and 5 rebounds per game during the 2015-16 season. He was Co-Player of the Year in Conference 13 and earned first-team all-region and second-team all-state honors. Nhial will play basketball for Cheshire Academy, a prep school in Connecticut, next season.
Martin finished with eight points and three rebounds during Sunday's all-star game. He was a second-team all-conference selection.
Adams had four points and four blocks against the Prince William All-Stars. He averaged 10.9 points during the season and was also a second-team all-conference selection.
"Knowing that we're going to be going away, we're probably not going to be playing with each other for a long time," Nhial said, "so [getting] to be together with my boys for the last time is always a great feeling."
West Springfield's Lewis Djonkam earned team MVP honors for Fairfax South. The 6-foot-9 post player scored 19 points and grabbed 13 rebounds.
Jordan Jones (T.C. Williams) had 16 points for Fairfax South, Tavaris James (T.C. Williams) finished with 14 and Spencer Askew (West Springfield) added 11.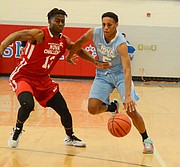 "It was great," Djonkam said about competing in the event. "Every kid on the court I love. I grew up with half the kids on the court. ... [It was] my last time playing with the kids. It was great. I loved it."
Later in the day, the Fairfax North All-Stars defeated the Loudoun County All-Stars 108-101.
Langley senior Nate Shafer scored 10 points, grabbed 10 rebounds and blocked seven shots for the Fairfax North All-Stars.
All-star games are known for run-and-gun offense, but Shafer, the 2016 6A North region Defensive Player of the Year, made life difficult for Loudoun County players who tried to score in the paint.
"I can still apply some tactics that we use [during structured basketball] to an all-star game," Shafer said. "I typically find a guy that can't shoot as well so I can camp in the paint and that gives me more blocks and more contested shots and more rebounds, so that sort of pads my stats in an all-star game like this, which is fun."
Shafer, who will play at Swarthmore College, said he enjoyed making defensive plays in an offensive environment. During one possession, Shafer swatted multiple Loudoun County shots.
"Those kinds of plays get the gym on their feet," he said, "so I like to do that."
Blake Francis, a member of the state champion Westfield Bulldogs, earned MVP honors for Fairfax North, finishing with 23 points, six rebounds and five assists. He knocked down a 3-pointer at the halftime buzzer, cutting the Fairfax North deficit to 64-50. Fairfax North outscored Loudoun County 58-37 in the second half.
Francis, who shot 8-for-17 from the floor and 5-for-12 from 3-point range, is still weighing his college options.
"It's good experience," Francis said, "going against the top talent in the Northern Virginia area."
Centreville's William Unterkofler scored 12 points and grabbed four rebounds. He also won the dunk contest, earning a perfect score of 30 on his final attempt, when he jumped, brought the ball between his legs and threw it down with his right hand.
Unterkofler will attend Virginia Tech but doesn't plan to play basketball. He said he could first dunk a basketball in the ninth grade.
"It was pretty cool," said the 6-foot-5 Unterkofler. "I've wanted to be in a dunk contest for a long time because I practice dunking all the time and I never get to show it, so it's really exciting to get to come out and do it."