Signature Theatre in Shirlington is staging "The Mystery of Love & Sex" now through May 8. The story revolves around Charlotte and Jonny, complete opposites who have been best friends since they were children. Now, as college students on the eve of graduation, they toy around with taking their friendship romantic. Or not. But neither is sure they are even attracted to the other (plus, Charlotte thinks she might be really attracted to Claire). Meanwhile, Charlotte's parents push them for a definition even while their own relationship founders. Gradually, secrets and truths emerge as playing grown-up turns into actually growing up.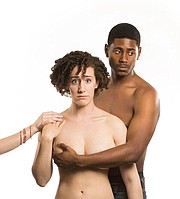 Shayna Blass plays the female lead of Charlotte, a 21-year-old attending college with her best friend, and neighbor, of 12 years, Jonny. "When the play opens, Charlotte is in the beginning of her entire life changing. Despite being brought up in a liberal home, with a southern mother and Jewish father, she is anxious about facing some hard truths about her life and the way she sees love," she said.
She said her biggest challenge was being able to find all the intricacies of hiding one's self — especially around the people who know you the best and love you the most. "While Charlotte eventually is able to be comfortable in her sexuality, there is a crucial period of time in her life where the uncertainty is extremely painful," she said.
She added: "The cast, crew, and production team has done an incredible job of making the story a real one, with real people, and real pain and real joy. My hope is that after our show people are open to sharing a little bit more about themselves to the people they love."
Xavier Scott Evans plays the male lead of Jonny, a young man who is constantly navigating and questioning who he is an an individual. "He is someone who is not comfortable with himself and is working to find what his purpose is on the planet," he said. "He's a thinker and not always outspoken or the most honest person. He is very smart but more often than not a true mystery."
He said one of the challenges in the play is finding the moments of truth. "A lot of the characters in the play are quick thinkers and fast talkers, but that doesn't mean what they're saying is actually true," he said. "So finding rabbit holes and following them to the end of the tunnel and in a split second finding a new rabbit hole is exciting but also extremely challenging."
He said he hopes that audience members take away that love is the strongest choice, period. "Differences come in all shapes and sizes but love is what can turn a lot of these differences into similarities. And I believe that everyone on this earth is seeking one thing .... love."
Signature Theatre in Shirlington is staging "The Mystery of Love & Sex" through May 8. Tickets are $40 to $89. Post-Show Discussion Nights are April 20 and May 3; Pride Night is April 29; and Open Captioned Performances are April 26 at 7:30 p.m. and May 1 at 2 p.m. "The Mystery of Love & Sex" contains full male and female nudity and depictions of tobacco smoking. Signature Theatre is located at 4200 Campbell Ave., Arlington. Visit the website at www.sigtheatre.org.