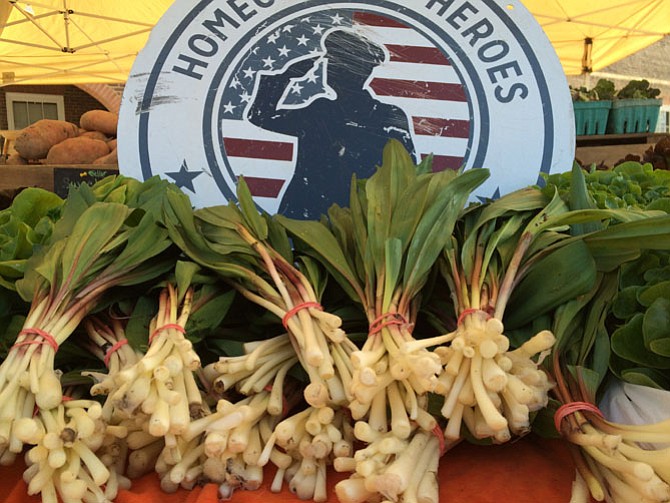 The dawn of spring brings lots of vendors back to Alexandria's farmer's markets. Fresh lettuce, tomatoes, the short-but-sweet ramp season — it's always a feast for the senses this time of year. Here are three area vendors to pay particular attention to.
Bigg Riggs Farm, Old Town Farmer's Market
Visit the Old Town Farmer's Market more than once and you'll know this farm's tent by sight — and have likely received a friendly greeting by Bigg Riggs' gregarious owner Calvin Riggleman. Come springtime, Bigg Riggs' stand is overflowing, offering spring greens such as fresh lettuce and pac choi, some relics of winter like sweet potatoes, and that delicacy of early spring, ramps.
Admittedly, ramps can be a bit of an acquired taste. But give them a chance to show off their onion-like, garlicky taste in a plethora of dishes from biscuits to omelets to salads and they'll likely win you over. With green leaves that resemble an unfurled scallion and a white base that looks like a tiny leek, these slight, slender wild onions pack a punch. And their season is short: Just several weeks in duration, their presence is the epitome of making hay while the sun shines. Do yourself a favor and give them a try before the season passes.
No. 1 Sons, Del Ray and Old Town markets
Who says farmer's market bounty needs to be freshly picked? Over the past several seasons, No. 1 Sons has solidified its status as the D.C. area's resident fermentation experts, offering pickles, kraut, kimchi, and kombucha every Saturday in Old Town and on the first and third Saturdays in Del Ray. And the lines at both locations each weekend shows that the pickle business is booming.
One of the gems of the bunch is No. 1. Sons' "Stinkin' Rye," a sauerkraut that certainly lives up to its name. Don't be put off, though; this kraut is worth its odoriferous introduction. At home on hot dogs, on sandwiches, or even by itself, the Stinkin' Rye quickly becomes the star of the show. Don't miss it.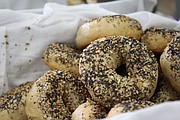 Bagel Uprising, Four-Mile Run Market
Visitors to the Four-Mile Run Market in Arlandria each Sunday have surely seen the line for Bagel Uprising's wares. As soon as owner Chad Breckinridge arrives each week, he's mobbed by dozens of customers waiting to get their Sunday bagel fix, and he's only too happy to oblige.
The first thing you'll notice about Breckinridge's bagels is that they stick to the pure tried-and-trues: plain, poppyseed, everything, salt, and sesame-seed. This purist mentality means you won't see such upstarts as blueberry or asiago, and that's just fine. Grab a baker's dozen of mixes and matches and set yourself up for the week ahead. (Hint: They freeze beautifully, though it's unlikely you'll have any left over to preserve.)
As word of Breckinridge's delicious bagels began to spread, it's only natural that opportunity would come knocking. Two weeks ago, Brabo in Old Town began featuring Bagel Uprising's bagels on its Sunday brunch menu, ensuring bagels across town each Sunday. Bagel Uprising fans aren't complaining.
Hope Nelson owns and operates the Kitchen Recessionista blog, located at www.kitchenrecessionista.com. Email her any time at hope@kitchenrecessionista.com.