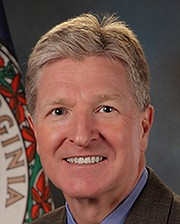 On April 7, I was pleased to be back in Alexandria, the city I love, to stand with Governor McAuliffe at City Hall as he vetoed three bills that will prevent gun violence and protect victims and survivors of domestic violence in the Commonwealth. Since taking office, Governor McAuliffe has been and continues to be a dedicated gun violence prevention advocate and has continuously promised Virginians that he will take action to keep our communities and families safe.
At the ceremony, advocates spoke on the importance of continued efforts and a strong commitment to ending gun violence. Then, surrounded by public safety officials, sexual and domestic violence prevention advocates, gun violence prevention advocates and elected state and local officials, Governor McAuliffe took action and signed three veto statements.
As a former prosecutor, defense attorney and Alexandria legislator, I was glad to see House Bill 560 vetoed. The bill related to brandishing of firearms and attempted to incorporate the element of intent into the law by requiring that a person know or reasonably should know that his or her actions would induce fear into the mind of another. This bill would have turned jurisprudence on its head by attempting to get into the mind of an offender and speculate at the offender's intent during a reckless and dangerous situation while also giving credence to the defense of "I didn't mean it."
As is the standard in all other criminal proceedings, the offender's intent can and should be inferred by the evidence; rendering this bill unnecessary. The Governor's veto demonstrates that he will not burden our public safety officials and create an avenue for individuals who recklessly handle firearms to mount a defense based on fears from gun advocates that they will be prosecuted for brandishing while openly carrying firearms in the Commonwealth.
Governor McAuliffe also vetoed Senate Bill 626 and House Bill 766. These proposals would have allowed individuals seeking protective orders to lawfully carry concealed handguns for up to 45 days without having submitted a concealed handgun permit application or completed any of the necessary training that is essential to safe and proper handling.
This dangerous approach reintroduces firearms into already volatile situations and removes all safeguards currently in place that ensure individuals carrying concealed, particularly victims and survivors of domestic violence, have given careful consideration to the risks and responsibilities associated with carrying concealed handguns. This is not the right approach.
In fact, we know that when firearms are present in domestic violence situations, women are five times more likely to die. Virginia experienced 112 domestic violence related homicides in 2014, 66 of which occurred with a firearm.
Earlier this year, Governor McAuliffe signed several pieces of legislation as part of a bipartisan firearms agreement, including Senate Bill 49 and House Bill 1391 that addresses this issue head on and will save lives in the Commonwealth. With the Governor's action, individuals subject to permanent protective orders of family abuse will now be required to sell or transfer their firearms within 24 hours. Any person who fails to turn over their firearms will be guilty of a Class 6 felony, resulting in up to five years imprisonment in permanent loss of his or her firearms rights. This will be the toughest domestic violence law in the nation when it takes effect on July 1.
As the Secretary of Public Safety and Homeland Security, I share Governor McAuliffe's commitment and dedication to keeping Virginians safe. As a candidate, he made gun violence prevention a top priority and as Governor, he has succeeded in taking real, tangible steps to end gun violence in Virginia.