Alexandria residents James Caple and Cindy Way gathered with family and friends April 16 at the Old Dominion Boat Club to christen a specially designed boat that the couple plans to row across the Atlantic Ocean later next month.
Caple and Way will begin the 2,800-nautical mile voyage on May 16, pushing off from Cape Cod, Mass., and row across the Atlantic Ocean to Ireland. All required supplies, including a desalinator to make fresh water, will be carried on board.
Caple, who rows competitively for Alexandria Community Rowing, is a software engineer and 1991 graduate of the Citadel. He completed his first Ironman Triathlon in 2012 and ran the Marine Corps Marathon in 2013.
Way, a seven-year Navy veteran, is the chief learning officer in the Oceanographic and Atmospheric Research division at NOAA. She also rows competitively for Alexandria Community Rowing and is finishing her doctorate in education at George Washington University.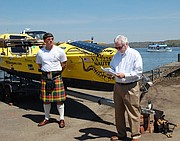 "I am super excited to start this adventure," said Way, who is using the ocean row as research for her dissertation.
Caple and Way will begin their voyage on the Cape Cod shore near Tabor Academy. Current students there will host a launch party for the couple on May 16 and the couple will depart as soon afterwards as weather permits.
The 2,800-nautical mile journey is expected to take about 90 days, with plans to make landfall at Dingle, Ireland, a coastal town west of Cork. Their boat, which has been used by other crews on previous transatlantic voyages, is equipped with a satellite phone, emergency beacons, a VHF radio and assorted safety features. They will carry sufficient food for the entire trip and use a desalinator for freshwater.
Upon successful completion of the voyage, they will be the first American pair, the first mixed pair and Way the first American woman to complete an ocean row across this route. To learn more or to follow the couple's progress, visit www.1000leagues.com.