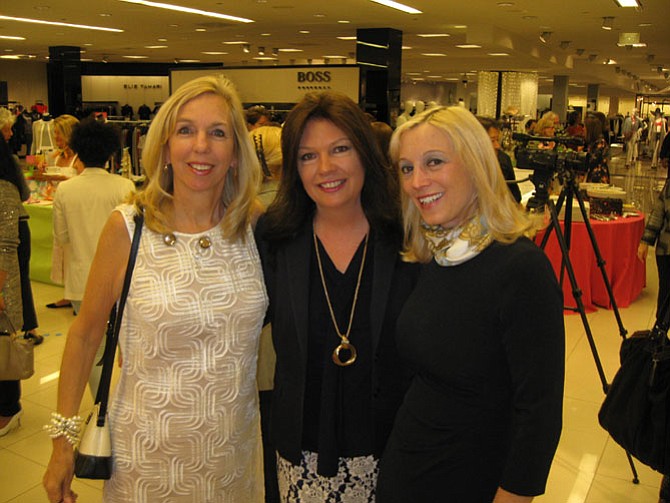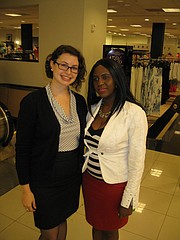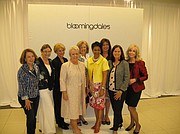 More than 200 people attended the 2016 Spring Fashion Show on Sunday, April 24 at Bloomingdale's Tysons Corner Center in McLean as a fundraiser for the Great Falls Friends and Neighbors Scholarship Fund. The event featured a champagne brunch, raffle, silent auction and shopping opportunity at Bloomingdale's. Andrea Roane, anchor of Channel 9 News, was the Master of Ceremonies.
Eighteen models participated in the fashion show, including Bloomingdale's professional models and members of GFFN. Four grandchildren of GFFN members, ranging in age from 3 to 14 years, also walked the runway in Bloomingdale's fashions.
The fashion show featured the work of Bloomingdale's team of Store Manager Bill Ruhrkraut, PR Manager Heather Guay and Personal Shopping Manager Effie Elkorek. Dior Makeup and Toka Hair donated their cosmetic and hair styling services to the cause.
Great Falls Friends and Neighbors (GFFN) was formed in 2011 as a result of a merger between the Great Falls Woman's Club and the Newcomers of Great Falls. These two organizations had been active in the Great Falls area for over 30 years at the time of the merger.
Each year GFFN's Scholarship Fund awards up to six scholarships to Virginia women over the age of 25 who are trying to complete their college educations. A scholarship is also presented to a dance student at George Mason University in the name of a club founder, Bette Carter.

"We primarily are a nonprofit that supports women over 25 that want to get a college degree," said Ricki Harvey, president of the GFFN Scholarship Fund. "We feel that educating women impacts families, communities and societies as a whole. We're hoping today to add to the endowments that we have. We're so appreciative of Bloomingdale's and our donors and corporate sponsors who made today possible."
GFFNSF has established two endowments, one at George Mason University and one at Northern Virginia Community College, which are maintained through donations and fundraising activities.

Martina Atabong, a single mother from Arlington and the first in her family to graduate from college, received her scholarship last fall and this spring, and will be graduating with a degree in nursing. "It was beneficial and helped me buy my textbooks," she said of the scholarship. "They are very good people in trying to help minorities like us, which is really good."
Hela Baer, a GMU student from Fairfax, received her scholarship to help her study conflict analysis and resolution at GMU. "Having the extra support of the scholarship helped me to focus on my studies so I wouldn't have to worry about how I would support myself. It gave me a piece of mind and the ability to focus on my education," she said.
The fashion show raised $25,000 for the scholarship fund. To learn more about the GFFNSF program, become a sponsor or donate money, see GFFNSF.org.