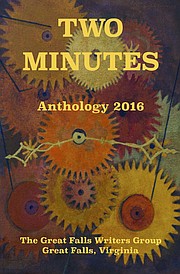 On Thursday, May 5, the Great Falls Writers Group ​(GFWG), along with artists from the Great Falls Studios, combine creative energy to host a public event at the Great Falls Library to recognize the community's volume of artistic talent. Part book launch, part art festival, the community celebration called "Pen & Palette" begins at 7 p.m.
At the event, GFWG unveils its 2016 anthology, called "Two Minutes," which features 36 local writers sharing words and wisdom about a single topic — the topic of two minutes — which means something different to each contributor.
"These individually unique and fascinating writings touch the emotional center of the reader," said the anthology's editor, Esther Eacho, who worked with writers and artists to compile the book's cover and contents.

More than 20 local artists submitted a total of 56 works, which were considered for the front and back cover of the book. The 96-page book's front- and back-cover artwork was chosen by juried selection. The project stretched artist Linda Jones beyond her usual subject of flowers, fruits and trees. Her piece — acrylic on canvas, and appropriately entitled "Wheels of Time" — depicts the inner workings of a clock, in keeping with the overall, time-related theme of the anthology itself.

Artist Will Tuthill's favorite medium for personally creating works is lithography, but his pen-and-ink piece entitled, "Time Intact," was selected for the back cover display.
"We're excited about this event because it weaves together the literary and artistic communities of Great Falls into one, whole cloth," says Kristin Clark Taylor, founder of GFWG. "This might be the first time such an exciting combination of pen and palette has come together under one roof. The community at large needs to be a part of this collective celebration!"
Authors and artists alike will discuss, display and sell their work. The event is free and open to the public.