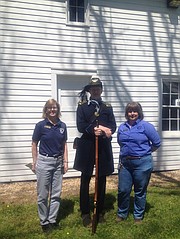 More than 80 persons traveled to Herndon's Frying Pan Farm Park to attend a presentation related to the history of the American Civil War. Titled "These Walls are Talking…Come Hear Their Civil War Stories," the event was held Sunday, April 24 from 1 to 3 p.m. During the Civil War, Frying Pan Meeting House served as a field hospital, encampment and picket post. Visitors learned about significant battles in Virginia and the soldiers who fought them with the help of re-enactors and special exhibits at Frying Pan Meeting House.
Jim Morgan, a historian with Ball's Bluff Battlefield and National Cemetery, spoke about the Battle of Ball's Bluff and its relation to the Meeting House. Tom Frezza, a collection manager and historian at the National Museum of Civil War Medicine, spoke about medical practices during the 1860s, and the development of the ambulance corps. Company H of the 4th Virginia Cavalry drilled and met with attendees.
Frezza spoke about tourniquets and the amputation process. "It is going to be a little graphic, but I promise no one will get cut," said Frezza. A good surgeon in that era was able to complete a basic amputation in about 13 minutes. "Civil war medicine is not as bad as everyone thinks," said Frezza. "Mercy Street," a PBS miniseries which has been renewed for a second season, follows the lives of two nurses at Mansion House Hospital, in Alexandria. Frezza described the miniseries as historically accurate, and said it has brought in some visitors to the museum at Frederick, Md.
Also attending were Christy Forman, an education coordinator with the National Park Service at Manassas Battlefield Park and Tyler Ward, an intern and senior at Old Dominion University. "I'm from the area, and Frying Pan has a great program here," said Ward. Virginia is a hotbed of Civil War history. More Civil War battles were fought in Virginia, from Manassas to Appomattox, than any other state.
The Frying Pan Meeting House was built in 1791, served as a hospital during the Civil War and boasts connections to Patrick Henry, James Madison and the First Amendment to the U.S. Constitution. Today, Frying Pan Farm Park preserves and interprets a 1920s through 1950s farm for the educational, cultural and recreational enrichment of citizens and visitors of Fairfax County. Many families take the opportunity to meet the farm animals and see traditional farm demonstrations.
The April event was a chance for relatively new additions to Frying Pan Farm Park staff to meet other visitors. Teresa Reynolds joined the park at Herndon in March, and had earlier worked at the Fauquier History Museum at the Old Jail. "I like to share history," said Reynolds. The park is preparing for their Spring Farm Day on Saturday, May 14. "It is especially fun because it is so hands on," said Bonnie Butler, the park's new marketing and development coordinator.
Spring Farm Day gives the family a chance to experience what life was like for farmers before the modern conveniences of today. Sheep will be sheared to provide the wool that was spun and turned into clothing. There will be demonstrations of antique farm equipment; and visitors age two and older can try their hand at milking a cow or a goat. There will also be crafts, games and farm equipment demonstrations.
Spring Farm Day is also an opportunity to see the baby animals that have joined the Frying Pan family over the winter and spring. Activities begin May 14 at 10 a.m. and run until 3 p.m. The cost is $7 per person when you register online. Walk-ins are welcome the day of the event. Tickets at the door are $8 per person. Frying Pan Farm Park is located at 2709 West Ox Road, Herndon. For more information, call 703-437-9101 or visit http://www.fairfaxcounty.gov/parks/fryingpanpark/.